After our visit to the City of Brotherly Love on Wednesday to look back at the 2014 Jets Draft class today we head to Del Boca Vista Phase III in Florida to recap the Jets 2015 draft class.
1st round pick (17th overall):  Kyle Connor
The Boston Bruins had three consecutive picks in the First Round of the 2015 NHL Draft; #13, #14 and #15. There was plenty of speculation that with one of those picks, Boston would select Kyle Connor from the Youngstown Phantoms of the USHL.  When Boston didn't call out his name and when the New York Islanders selected Matthew Barzal (not exactly a bad option) at #16 the Jets were able to draft the talented winger from Clinton Township, Michigan with the 17th overall pick.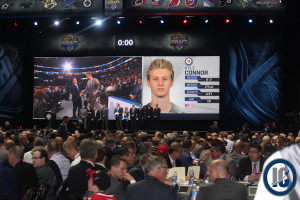 Connor would only play one season at the University of Michigan wearing the maize and blue but it would be a season to remember as he finished the regular season with a 23 game points streak, earned five post-season Big Ten Conference distinctions, earned three more awards at the Dekers Blue Line Club Banquet and finished as a Hobey Baker runner-up to Jimmy Vesey.  Three days after the Hobey Baker announcement the flashy forward signed his first pro contract inking a three-year ELC with Winnipeg.  And while his college career was at an end he would take home one more award as he won the USA Hockey College Player of the Year.
Having success in college or junior is one thing but as we know the jump to pro hockey is an entirely different animal and there is a reason 86.9% of players in the NHL have played in the AHL.  Connor played 19 games with the Jets to start 2016-17 but eventually found himself assigned to the Moose for the remainder of the season (with the exception of a recall at season's end to play in the finale) to give him the opportunity to grow his game and get the ice time required to continue his development.  Even then the transition to pro hockey in the American League isn't seamless and the speedy winger went through some growing pains but it was evident to those who watched that he had oodles of talent.  Eventually it all started to come together for Connor and he scored 17 goals in the final 20 games of the season.  He would begin his second pro season in the minors playing in four games for the Moose (3G 2A) before his final recall to the big club where he proceeded to put up 31G and 26A in 76 games in his first full NHL season.  Connor played in all 82 games for the Jets last season which saw him improve his goal (34) and assist (32) totals.
He is currently an RFA and the expectation is the Jets will be looking to sign him to a long-term deal.
1st round pick (25th overall):  Jack Roslovic
The trade everyone still talks about in Winnipeg saw the Jets ship out Zach Bogosian, Evander Kane and prospect Jason Kasdorf to the Buffalo Sabres for Tyler Myers, Drew Stafford, Joel Armia, Brendan Lemieux and this 1st round pick.  Now this 1st rounder was conditional on Winnipeg receiving the lowest of Buffalo's (they had three) 1st round picks in 2015, which turned out to be the Blues pick (25th overall).
As with their other 1st round pick this draft the Jets stuck with the USHL drafting Jack Roslovic from the U.S. National Development Team. The centre out of Columbus, Ohio wasn't projected to be a 1st round selection but he has shown so far that the pundits aren't always right.  Roslovic would spend the 2015-16 season playing two hours west of his hometown for the Miami University (Ohio) RedHawks where he put up 10G and 16A in 36 games.  He was named to the All-Rookie Team and was a Rookie of the Year finalist.  In July of 2017 he signed on the dotted line to become a pro player with Winnipeg agreeing to a three-year ELC.
As you'd expect Roslovic began his pro career in the minors with the Manitoba Moose to kick off the 2016-17 season here in Winnipeg.  Roslovic's first game against Iowa he had a goal and assist and was playing especially well by mid December when he was loaned by the Jets to Team USA for the 2017 World Juniors where he helped his team win the championship.  He picked up where he left off when he was returned to Manitoba, earned himself an AHL All-Star nod as well as a recall at the end of the season to the Jets to play in his first NHL game in his hometown of Columbus.  He won the award for most points on the Moose in his rookie season in a hotly contested race between himself, Kyle Connor and Dan DeSalvo.  If the 2017-18 Moose team that we saw in October and November had stayed together there was an excellent chance they would have been battling the Toronto Marlies for the Calder Cup and a big part of that was the play of Roslovic. One trend I noticed that season was the move of Roslovic from centre to wing and considering his NHL usage this switch makes sense.  He earned a second AHL All-Star selection but he would forgo attending as he would get his chance back in the NHL when the Jets lost Adam Lowry, Brandon Tanev and Mark Scheifele to injury and he would not look back playing in 31 games for Winnipeg.  Last year saw him with the Jets full time playing in 77 games (which included scoring his first pro hat trick) although it wasn't completely without controversy as his former agent indicated the young forward wasn't happy with his usage.
Roslovic is in the final year of his ELC in 2019-20 and he will be another young player Winnipeg would probably like to lock up for awhile.
2nd round pick (47th overall):  Jansen Harkins
Unlike with Jack Roslovic, when the Jets got Jansen Harkins in the middle of 2nd round, it looked like a bit of a steal as the North Vancouver, BC product (and son of former NHLer Todd Harkins) was projected by quite a few draft experts as a late 1st rounder.  Harkins had two seasons of WHL hockey under his belt playing for the Prince George Cougars and in his second season he more than doubled his points production from his rookie season.  After his third season of junior ended Harkins got a taste of the pro life signing an amateur tryout offer with the Moose getting into six AHL games which included an assist in his first game and a goal in his fifth game to close out the 2015-16 season.  Harkins offensive output bounced back in his final season of WHL hockey which concluded with him signing a three-year ELC with the Jets in April of 2017.  He played four more games with the Moose in 2016-17 which saw him score twice and add two assists heading into his first summer as a pro.
His rookie season saw him play 46 games with the Moose in the AHL but also play in six games with the ECHL affiliate in Jacksonville ultimately finishing with just 13 points (2G 11A) which was 17th on the roster in terms of scoring.  He came back for the 2018-19 season and was an improved player and I found his shot was especially noticeable, which certainly aided his points totals which increased to 15G and 16A for 31 points in 70 games (good enough for fifth on the team).  After another summer of training he will certainly be motivated to take the next step in his development as a player the Moose rely upon in the third and final year of his entry-level contract.
3rd round pick (78th overall): Erik Foley
Stop me if you've heard this before: The Jets select a player from the USHL.  For the third time this draft they did so as they selected Erik Foley from Norwood, Massachusetts who played for the Cedar Rapids RoughRiders with a commitment to Providence College.  In his third and final season of college hockey he was dealt by the Jets as part of a package to the St. Louis Blues for Paul Stastny.  He signed a three-year ELC with the Blues in March of 2018 (which negated the conditional 4th rounder in 2020 the Jets had included in the deal potentially) but didn't play any games in 2018-19 due to a concussion he sustained during the pre-season.
4th round pick (108th overall): Michael Spacek
The Jets cast their eyes across the pond when they took Michael Spacek of the Czech Republic who was playing for HC Dynamo Pardubice of the Czech Extraliga.  He would spend the next two seasons following his draft year in the WHL with the Red Deer Rebels.  Spacek had a chance to get a taste of pro hockey at the conclusion of the 2016-17 season when he signed an ATO with the Moose.  That summer he signed his three-year ELC with the Jets and would turn pro the following season.
Spacek joined the Moose for the 2017-18 season playing up and down the lineup mostly as a 3rd and 4th line centre but getting the opportunity on the 1st and 2nd lines occasionally as well as playing some time at right wing.  He was somewhat of a power play specialist in a Patrik Laine-Lite sort of way scoring 10 of his 17 goals with the man advantage (which set a franchise record for power play goals scored by a rookie and which was a distinction he shared with his draft mate Sami Niku). Spacek seemed a bit hamstrung when it came to goal production in his second year with the Moose being limited to 10 goals last season although he did see an increase in points as his assists increased by 10.  Spacek has talent, can be tough to knock off the puck and has a decent little shot but he needs to be more consistent.
With Spacek (as well as Harkins) entering into their third year pro (and final year of ELC) it will be interesting to see if they have that next level to their game.
5th round pick (138th overall):  Traded
The Jets dealt this pick (as a conditional) to the Carolina Hurricanes when they acquired Jiri Tlusty for a 3rd rounder in 2016 and this one.  The condition was the Jets had to make the playoffs (which they did for the first time since relocation).  The Hurricanes selected Spencer Smallman who spent last season with their AHL affiliate in Charlotte.
6th round pick (168th overall): Mason Appleton
Back to the USHL for this selection as the Jets took Mason Appleton out of Green Bay, Wisconsin who was playing for the Tri-City Storm with a commitment to play college hockey at Michigan State.  He would play two seasons of college hockey in East Lansing and it appeared a third was likely after he was named captain for what would have been his Junior year but he instead opted a few months later to turn pro signing his three-year ELC with Winnipeg.
As a new pro Mason Appleton's goal was to make the Manitoba Moose. It might seem laughable now considering what he has  accomplished but when I spoke with him at the beginning of the 2017-18 season that was exactly his mentality.  He began on the 4th line for the first three games of the season before Coach Pascal Vincent gave him a chance to play with a couple of veterans in Mike Sgarbossa and Buddy Robinson on the 2nd line.  His consistent play began to earn him accolades such as AHL Player of the Week in late November and he was Jack Roslovic's AHL All-Star replacement that season as he lead the team in scoring (to that point) with 36 points in 41 games.  Appleton would finish his rookie season fourth overall in AHL scoring, first among rookies which earned him the Dudley Garrett Award for AHL outstanding rookie as well as AHL First All-Star Team and a spot on the All-Rookie Team. In addition to these league wide awards he received the Moose co-Rookie of the Team along with Sami Niku (he also took home the 3 Star award).  Appleton picked up where he left off to start the 2018-19 season with Manitoba putting up 15 goals (seven of which were game winners) and 17 assists for 32 points in 40 games and earned himself a recall to the Jets where he would play 36 games scoring three times and adding seven assists.  Appleton also earned himself a 2018 AHL All-Star nod but because he was up with the Jets he was replaced by Moose teammate Logan Shaw.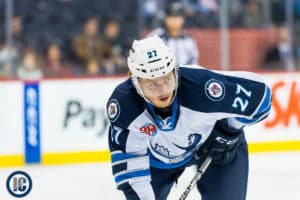 A big opportunity presents itself for the Wisconsin product in 2019-20 with a Jets team which will likely be up against the cap giving a player like himself, on a manageable ELC salary, the chance to seize a role.  Based on what we have seen from Appleton to date and his internal push I suspect that won't be a problem.
6th round pick (169th overall): Traded
The Jets got this pick from the Senators in June of 2014 for a Jets 7th round pick in 2014. They subsequently traded it to Carolina in the deal that saw Winnipeg acquire veteran defenceman Jay Harrison.
7th round pick (189th overall): Sami Niku
It isn't easy to strike gold late in a draft more than once in a blue moon but when the Jets called Sami Niku's name with the 189th overall pick they did just that (amazingly for the second time this draft) when they selected the smooth skating, left shot defenceman (who we would later learn prefers the right side of the ice) from Haapavesi, Finland.  Two years after he heard his name called, the Jets would sign him to a three-year ELC after he completed his third season playing for JYP of Liiga in Finland.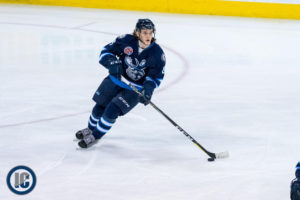 Niku began the 2017-18 season with the Manitoba Moose and while I said earlier we would learn he prefers the right side of the blueline he actually played the first 19 games of the season on the left side and then switched to the right side for all but a few games on the left.  Clearly it didn't impact his play at any point in the season as he would finish the season third in all rookie scoring, tops among all rookie Dmen (by 15 points) and second among all defencemen in points.  These accomplishments earned him some end of season hardware including being named (along with Mason Appleton) to the AHL First All-Star Team and All-Rookie Team and he was just the second ever rookie to win the Eddie Shore Award as the AHL's outstanding defenceman (at the 3 minute mark Mitch Peacock asks him about goal setting ahead of the season and his answer is classic Sami and the laugh is worth the click).  Niku was also voted co-Rookie of the Year for the Manitoba Moose and best defenceman on the team following the conclusion of the final home game that season.  In addition to playing a full season of AHL hockey in his rookie year he got called up by the Jets to play in Montreal for his first NHL game which saw him score his first NHL goal.  Quite a memorable year for the 7th round selection.  He would split his second year in North America between the NHL and AHL clubs but by March Head Coach Pascal Vincent confirmed he wasn't expecting to see Niku as he is now a Jet.
Niku will be looking for a bigger role in 2019-20 with the Jets blueline having some big holes to fill.
7th round pick (189th overall): Matteo Gennaro
The Jets made a trade with the Washington Capitals sending their 6th round pick in 2014 along with goalie Eddie Pasquale (a Thrashers 4th round pick in 2009, who played four seasons in the Jets farm system in St, John's) for Washington's 6th round pick in 2014 (Pavel Kraskovsky), a Predators 7th rounder (Matt Ustaski) in 2014 and this 7th round pick.
With the 189th overall pick, the Jets selected St. Albert, Alberta product Matteo Gennaro who was playing in the WHL with the Prince Albert Raiders. Gennaro played four seasons in the WHL before the Jets had to sign him by June 1st, 2017 but the deadline passed without Winnipeg signing him to a contract. When we spoke to Guy Flaming, who covers the WHL quite extensively, he described Gennaro as a "late bloomer…could be one of those depth guys who could contribute".  Gennaro would play a fifth and final season in the WHL before turning pro in 2018-19 with the Tucson Roadrunners of the AHL and has re-signed with them for the 2019-20 season.
Review:
1st – Kyle Connor – With the Jets
1st – Jack Roslovic – With the Jets
2nd – Jansen Harkins – With the Moose.
3rd – Erik Foley – Traded to the Blues.
4th – Michael Spacek – With the Moose.
6th – Mason Appleton – With the Jets.
7th – Sami Niku – With the Jets.
7th – Matteo Gennaro – In the AHL.
Next up: We look back at the 2016 NHL Draft which was held in Buffalo, New York.
Resources used: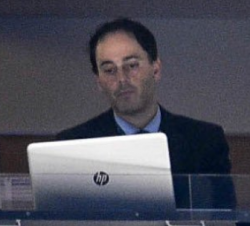 Working hard on a daily basis to provide the latest Winnipeg Jets and Manitoba Moose news for our readers and listeners.

I also appear on the Illegal Curve Hockey Show every Saturday on TSN 1290 Winnipeg starting at 9 am.

And I occasionally jump in the play-by-play booth at Bell MTS Place to provide colour analysis during Manitoba Moose games.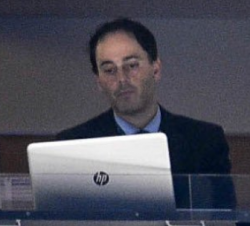 Latest posts by David Minuk (see all)