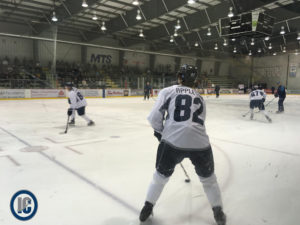 Mason Appleton was drafted by the Jets back in 2015 in the sixth round (168th overall).  The Green Bay, Wisconsin native is in his third year with the Spartans and will be wearing a 'C' for this season.  His points total went from 22 (5G 17A) in his freshman season with Michigan State to 31 (12G 19A) in his sophomore season.
From State News:
Rising junior forward Mason Appleton was named as MSU hockey captain for the 2017-18 season, the first new captain under head coach Danton Cole.
For the 2017-18 season, Appleton will serve as the team captain while rising senior defenseman Carson Gatt, rising junior forward Brennan Sanford and rising sophomore forward Sam Saliba were elected assistant captains, according to MSU Athletic Communications.
To read full story click here.
From the MSU Spartans release:
"Mason is a very intense competitor and has a drive to excel, which is contagious. We look forward to working with him as a leader and a young man next season. I was impressed with his demeanor in the spring and can see why his teammates voted him captain."  Coach Danton Cole.
To read full release click here.