When most local fans think about top Jets prospect Jack Roslovic (2015 1st rounder 25th overall) they think of the 20 year old Columbus born prospect as a centre.  One who managed to not just tread water in that tough position as a 19 year old rookie in the AHL but thrive, as he lead his Moose team in scoring (13G 35A in 65GP) and earned an invitation to the 2017 All-Star game.  He also won the 2017 World Junior championship held in Montreal/Toronto as a centre for the U.S. team.
Roslovic's 2017-18 campaign for the Moose began as you might expect with the prospect continuing where he had left off in the previous season.  He had three goals and three assists in his first 5 games.
On October 21st Moose bench boss Pascal Vincent moved Roslovic onto the wing for the first time this season with Chase De Leo as the other winger and rookie Michael Spacek as their centre.  He kept this trio together for that game as well as the next one on the 25th in Chicago.  Roslovic picked up one goal and the Moose picked up two wins.
When the team returned to Winnipeg for a pair of games against the Belleville Senators the Moose moved Roslovic back to his familiar centre position.  He would play both home games in the middle with Nic Petan and Chase De Leo on his wings.  Roslovic was held off the scoresheet and the Moose lost both contests in extra time (OT & SOL).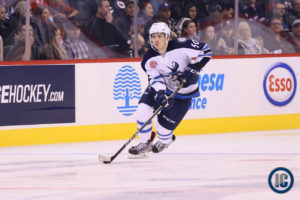 The Moose then departed on a six-game California road trip where they managed to secure four more wins to run their record to 8-5-1-1.  For the most part he played with Nic Petan on the other wing with veteran centre Patrice Cormier in the middle.  In the first 5 games of this trip Roslovic on the wing picked up 10 pts (4G 6A) and the Moose were 4-1 during his points streak.  He also, somewhat surprisingly, had the first multi goal game of his professional career in a 5-2 win over San Jose when he potted two goals and added one assist.
The Moose returned home to play four games at Bell MTS Place and this time during the home stand saw Roslovic remain on the wing with Petan and Cormier.  Manitoba picked up another victory although Roslovic was held off the score sheet. Following the win over the Wolves I asked coach Vincent about the move of Roslovic to the wing from centre and what he likes about #50 on the wing.  "His speed.  I know he's a good centreman and I know he can run his routes as a centreman really good.  But you look at the way he gets the puck out under pressure on the board and his speed when he's moving his legs and moving his feet and trying to beat defenceman, with his skills and the way he moves his feet, it's pretty hard to play against".
We certainly saw this the next Moose game as Roslovic had himself quite the night in the re-match with the Wolves two days later.  Once again lining up at wing he had two goals and two assists in a 6-4 Moose win, a game in which he was absolutely dominant.  This moved him into second in the AHL scoring race with 10 goals and 11 assists for 21 points in 17 games.
After the game I asked the top Jets prospect about his move over to the wing.  "I played a bit of wing in junior and I'm familiar with the position. Everyone says if you can play centre you can play wing.  I think wing it was good for my game.  It is a little higher pace, faster pace.  To learn how to really get moving and really learn how to use my speed to my advantage.  This is a point in my career where I've kind of honed it down and tried to figure out what's best for me and I've found a good rhythm.".
While he was held off the scoresheet in games 18 and 19 of the season the Moose picked up another two wins.
Coach Vincent did acknowledge that Roslovic could be back at centre at some point this season however the transition to wing has certainly benefited the 2015 1st rounder out of Columbus, Ohio.
At centre this season:
7 games played 3 goals 3 assists 16 shots
Team record: 2-3-1-1
At wing this season:
12 games played 7 goals 8 assists 36 shots
Team record: 10-2-0-0
When you look to the future and see a Jets team that has significant centre depth (of course they have depth at wing as well) it is clear that Roslovic having versatility at both the centre and wing positions will give the Jets a player that they can be inserted into the lineup when needed at either spot.  A very valuable skillset for their top prospect to posses.
As always stay tuned for the latest Winnipeg Jets and Manitoba Moose news by keeping it locked to illegalcurve.com and on social media including Twitter | Facebook | Instagram.  And you can follow me on twitter as well (@icdave).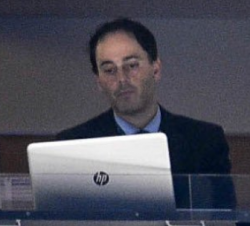 Latest posts by David Minuk (see all)