Over the course of the last two weeks we've been looking back at the Winnipeg Jets Draft classes since the team moved from Atlanta.
Recap:  2011 | 2012 | 2013 | 2014 | 2015 | 2016 | 2017 | 2018 | 2019 |
But having looked back at the 63 players the Jets drafted we figured we'd take a look at some of the other particulars regarding the prospects taken since Winnipeg announced they would be the Jets in St. Paul back in June of 2011.
1. Which league has Winnipeg drafted from most often?
WHL: 15
USHL: 11
OHL: 7
Liiga: 5
SHL: 4
QMJHL: 4
BCHL: 3
NCAA: 2
NAHL: 2
OJHL: 2
HockeyAllsvenskan (Swedish tier 2): 2
KHL: 1
MJHL: 1
AJHL: 1
Czech Extraliga: 1
Russian Junior Hockey League (MHL): 1
Minnesota High School: 1
2. Which country has Winnipeg drafted from most frequently?
Canada: 27
USA: 19
Finland: 6
Sweden: 5
Russia: 2
Czech Republic: 2
Denmark: 1
Germany: 1
3. Which position have they selected the most?
Centre: 19
Right-shot Defenceman: 13
Left-shot Defenceman: 10
Goalie: 8
Left Wing: 7
Right Wing: 6
4.  NHL Players with more than 100 games played:
Of the 63 players drafted the Jets have turned 11 of them into players with more than 100 NHL games under their belt including Mark Schefiele (448), Jacob Trouba (408), Adam Lowry (359), Nikolaj Ehlers (298), Andrew Copp (293), Josh Morrissey (223), Patrik Laine (237), Connor Hellebuyck (212), Kyle Connor (178), Nic Petan (113) & Jack Roslovic (109).  With three more players in Mason Appleton (36), Sami Niku (31) and Tucker Poolman (24) who could get there if they play a full 2019-20 season with the big club.
5. Turning Prospects into Pros:
Looking at Cap Friendly for the current roster the Jets have filled their NHL club with players they've drafted including seven of the 10 forwards currently on it (and this could increase to nine of 12 if Vesalainen and Appleton make the club out of camp), three of seven defencemen and one of their two goaltenders (obviously there are a few more spots but those are up for grab at training camp). While there are still a number of good prospects in the system the evaluation of the current state of the Jets pipeline from those outside the market is rather meager.
The Athletic: 2019 NHL farm system rankings – 27 Winnipeg Jets. (Paywall). With a number of the Jets prospects making the jump to the NHL the farm system is taking a hit according to Pronman.
Elite Prospects:  Prospect Pool Rankings – 25 Winnipeg Jets.  (Paywall).  Cam put this rankings out at the end of July.
The Jets are fortunate to have an AHL head coach with the Moose in Pascal Vincent who understands that the purpose of the farm club is to continue to turn these young prospects into NHL players.  He knows that giving a guy like Logan Stanley big minutes in his rookie AHL season will come with growing pains but will serve the player (and the organization) well in the long run.  He sees the benefits in allowing a player like Mikhail Berdin to be himself rather than conform to a "standard" for goalies.  Additionally the growth in the game of players like Mason Appleton, Tucker Poolman and Sami Niku was evident throughout the year and this trio now appears to be leaving the AHL behind.  Players like Michael Spacek and Jansen Harkins will have a big opportunity in 2019-20 as they play the final year of their entry-level contracts as will C.J. Suess who had his 2018-19 season cut short due to injury.
And there is a crop of prospects including David Gustafsson, Ville Heinola, Simon Lundmark, Henri Nikkanen, Jonathan Kovacevic, Leon Gawanke and Dylan Samberg (to name a few) that are poised to be that next wave of young guns to fill up the pro ranks for this organization in the coming years.
As we have since they moved back to Winnipeg we will have plenty of Manitoba Moose content on our site as we continue to watch the next generation of Jets prospects playing and developing in pro hockey.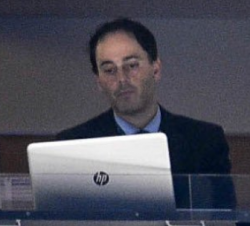 Latest posts by David Minuk (see all)