That was the question posed on Twitter today by Winnipeg Jets Director of Communications Scott Brown.
For equipment nerds like myself, notice anything different this summer when looking at NHLJets players either on-ice or at the draft? ? Look for that change this year. https://t.co/5ye0V59mD1

— Scott Brown (@BrownScottTN) August 15, 2019
Scott was referencing a photo of Jets captain Blake Wheeler taken at the IcePlex as he gets ready for the 2019-20 season.
Welcome back @BiggieFunke #JHDhockey pic.twitter.com/HULUuDPi3w

— Bell MTS Iceplex (@bellmtsiceplex) August 15, 2019
He also mentions in his tweet that you may have noticed a difference at the Draft. Looking at 1st round pick Ville Heinola's photos from Draft Day and something certainly stands out:
As most folks pointed out in response to Scott's tweet it is the gloves.  They are now two-tone featuring the Aviator Blue.
Now the question Jets fans may start asking as we sit about a month out from the start of training camp is whether or not the Jets will be unveiling a new Heritage Classic uniform for the game against the Calgary Flames in Regina in late October.  When the Jets were set to take on the Oilers back in the first Heritage Classic game hosted here in Winnipeg the team revealed their new uniforms on August 5th, 2016 for the game on October 23rd, 2016.  The 2019 version of the Heritage Classic is on October 26th, 2019.  In July we saw some concept art which fans seemed to love.
Anyways for the folks who get jazzed about equipment details there ya go.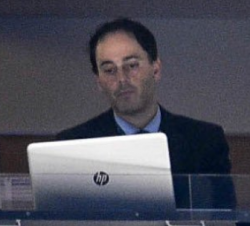 Latest posts by David Minuk (see all)