Note:  The Jets got the regular season underway last night at MSG with a bang as Winnipeg and New York traded quite a few chances but in the end Jacob Trouba, Brendan Lemieux and the Rangers came out with the 6-4 victory.  Trouba in particular burned his former mates as he had a goal and two assists in his debut.  The Jets won't have much time to reflect on the season opener as they cross the Hudson river to get to New Jersey for tonight's game against the Devils.  Be sure to check out the pre-game report.
Note II:  Elliotte Friedman spoke about Dustin Byfuglien on the 31 Thoughts Podcast.
Note III:  The Moose will kick off their regular season tonight in San Antonio as they take on a central division rival in the Rampage.  Plenty of reasons to watch the game with a number of interesting prospects down on the farm.
Jets news:
Winnipeg Sun: Jets drop high-scoring season opener to Rangers as Hellebuyck struggles.  Not one to remember as they kicked off their 2019-20 season with that bizarre loss to NY.  Although Nikolaj Ehlers was dynamite.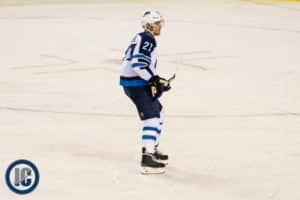 Winnipeg Sun: Jets will get a good look at first overall pick Jack Hughes and old friend PK Subban.  Ted previews tonight's game against the Devils.
Winnipeg Free Press:  Curtain rises on NHL play for Heinola.  (Paywall).  Hard to believe this kid is 18 years old.
Winnipeg Free Press: Defenceman flew more than 14,000 kilometres this week, just don't mention the word 'jets'. (Paywall).  From Milan to Minsk or something like that for the Jets new Swedish D man Carl Dahlstrom.
Winnipeg Free Press: Jets drop season-opener to Rangers 6-4. (Paywall).  Mike recaps the game from his perspective inside MSG.
TSN:  Jets' opening loss highlights Hellebuyck's slim margin for error.  A lot of the talk ahead of the regular season was the extra focus that was going to be on Connor Hellebuyck.  That lens is only going to become more and more attuned to him as the season progresses.
NY Post:  Revamped Rangers put on an opening-night show.  Read about the game from the perspective of a writer who covers the Jets opposition.
The Athletic Winnipeg: Josh Morrissey grows into a leadership role with the Jets. (Paywall).  He used to come out to meet with kids after every Moose game (win or lose) when he was in the AHL so it doesn't surprise me that this kid has developed a voice at the NHL level.  From the way he interacts with media to his teammates to fans he is a player that treats people with respect.
The Athletic Winnipeg: Everything I don't know about the 2019-20 Jets. (Paywall).  There are plenty of question marks for Murat this season.
Jets video:
TSN:  Jets defence simply isn't good enough.  The Jets blue line was already a big story line heading into the season and they weren't able to shut down the Rangers in their season opener. Craig Button explains why their personnel on the back end isn't NHL caliber right now.
Moose news:
Illegal Curve:  Moose put together an Eric Comrie video montage.  Kid made a lot of saves over the years.
Illegal Curve:  Moose head coach Pascal Vincent on Jets prospect Kristian Vesalainen and a Sami Niku note.  Get an update on the Jets 2017 1st round as well as Sami Niku.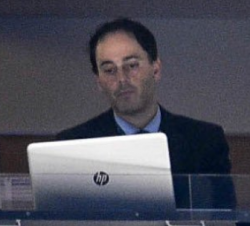 Latest posts by David Minuk (see all)