Kristian Vesalainen was sent down last week from Jets training camp to the Moose after a fairly uneventful camp with the big club.  As has been well documented the Jets 2017 1st rounder (24th overall) started last season with the Jets, was assigned to the Moose, went back to the KHL and then re-joined the Moose to conclude the 2018-19 season.
Today the team is in Texas to kick off the 2019-20 regular season and head coach Pascal Vincent was asked about the differences he has noticed in Vesalainen's game now as compared to last year:
"He's way stronger physically, he understands the system way more, we understand the language. He is working on little details that people may not notice. But he is working on his stick, his defensive game, he's working on a few things that will help him eventually get called up and stay there. We want him to be ready when he gets called up. So he's working on defensive game battles, one-on-one. Obviously at the end of practice you'll see him shoot a million pucks and he still has the ability to shoot the puck. But for him to create that shooting opportunity, so moving his feet and playing a 200 foot game."
He was also asked about the status of Sami Niku who was assigned by the Jets to the Moose on Tuesday to get his conditioning up after being limited at Winnipeg's training camp to just a few practices with the team and one pre-season game.
The Moose bench boss was asked if this was simply for conditioning but indicated he doesn't have a mandate with the smooth skating Finnish defenceman aside from getting him ready "I wasn't told one way or the other.  What I was told was he is coming down, get him ready to play minutes and we'll go from there."
You can watch the full chat with the Moose bench boss here:
Manitoba will play their season opener against the Rampage tomorrow night in San Antonio with puck drop at 7 pm.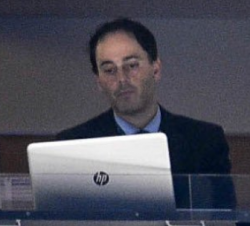 Latest posts by David Minuk (see all)