Note:  After a busy Tuesday let's hope today is a bit more relaxed.  We received the full 82 game Jets schedule at lunch followed by the news of which RFAs the Jets planned on submitting qualifying offers to and those they did not.  Jets GM Kevin Cheveldayoff also spoke for almost 20 minutes on a variety of topics which you can listen to here.
Note II:  Yesterday was also the first day for prospects and invitees to take to the ice for drills at Jets Development Camp.  Following their on ice responsibilities players spoke to the media including Kristian Vesalainen, Logan Neaton and Henri Nikkanen which you can listen to here.  Today is Day 2 of Development Camp and players start to hit the ice at 10:00 AM.
Note III:  After 11 seasons in the NHL former Jets forward Matt Hendricks has called it a career and will hang up his skates.
Jets news:
Winnipeg Sun:  Jets 2019 fifth-rounder familiar with No. 1 guy.  Both from Michigan.  Both drafted in the 5th round. Both attended/will attend UMass-Lowell to play college hockey and both use the same goalie coach back home.  It will be interesting to watch the path that Neaton takes.
Winnipeg Sun: Big year ahead for Jets prospect Vesalainen.  Vesalainen will be relied upon regardless of whether he is with the big club or on the farm with the Moose.
Winnipeg Free Press:  Next generation looking good.  (Paywall).  Mike gives you his top 10 prospects to watch at Development Camp (and then adds an extra five for good measure).
Winnipeg Free Press:  Recent Jets draft pick Neaton has a lot in common with Hellebuyck.  (Paywall).  It really is a rather remarkable coincidence.  Neaton sounds like he has quite a good head on his shoulders.
Winnipeg Free Press:  Vesalainen's one season wiser.  (Paywall).  The Jets 2017 1st round pick will certainly be a player to watch this season.
Winnipeg Free Press:  Cap crunch forces Chevy to play defence with Jets' blue line.  (Paywall).  The back end for the Jets is currently a big question mark as free agency looms.
Sportsnet: Winnipeg Jets face many challenges this summer. Rory Boylen looks at four areas for the Jets including: 1) Getting Patrik Laine and Kyle Connor figured out. 2) Buyout considerations. 3) Trade considerations. 4) Who's being promoted?
Jets video:
TSN: Can the Jets do enough to entice Tyler Myers to stay and re-sign in Winnipeg? There is a good chance that Myers has played his last game as a Jet but Frank Seravalli explores the likelihood that Myers will re-sign in Peg City.
TSN: Should Jets bridge, or give Laine a long-term deal? TSN Hockey Insider Pierre LeBrun has the latest on the contract talks between Patrik Laine, Kyle Connor and the Jets, and Jeff O'Neill shares his thoughts on why Winnipeg should lock up Laine long term.
TSN: A two-to-three year bridge deal for Laine makes the most sense. TSN Hockey Insider Pierre LeBrun has the latest on Patrik Laine and Kyle Connor's negotiations with the Jets, and shares his thoughts on what would make the most sense for both forwards.
Jets audio:
Winnipeg Jets Director of amateur scouting Mark Hillier joined Andrew Paterson and Rick Ralph on the Afternoon Ride. They looked back on the Winnipeg Jets draft picks from this past weekend, what happens at the draft table and the process of putting together a draft list.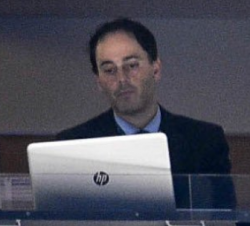 Latest posts by David Minuk (see all)