Note:  After what seemed like a lifetime the arbitrator's decision on Andrew Copp's salary arbitration was revealed to be a two-year deal with a 2.28 million AAV.  It is a good contract for a team like the Jets who need to be considerate of costs with a couple of critical RFAs remaining in Patrik Laine and Kyle Connor.
Note II:  The other thing this triggered is that the Jets now have a second buyout window which opens on Friday and will remain open for 48 hours as per Cap Friendly.  The primary buyout target would be Dmitry Kulikov.  Stay tuned to see if the Jets exercise this option.
Jets news:
The Athletic Winnipeg: Neal Pionk on his long road to the NHL, unique development path and his opportunity in Winnipeg. (Paywall). Murat has a Q & A with the Minnesotan who will be wearing a Jets uniform for the first time next season.
ESPN:  NHL RFA buzz – Signings, arbitrations and those pesky offer sheets.  As you'd expect Connor and Laine are mentioned.  
Winnipeg Sun: Two-year deal for versatile Jets forward Andrew Copp.  It will be a big couple of years for number 9 as he tries to take on a bigger role with Winnipeg.
Winnipeg Free Press:  Arbitrator splits difference between Jets, Copp with two-year $4.56M contract.  (Paywall).  Not gonna say there was much shock among Jets faithful who were loudly predicting a split of 2.2 million when the numbers for the Jets and Copp's side became known.
Sportsnet:  Laine, Connor in focus as Winnipeg Jets' salary cap picture becomes clear.  With their last salary arbitration hearing in the rear-view mirror it is time for Kevin Cheveldayoff and Company to turn their focus on the two big remaining RFAs.
Jets audio:
Mike McIntyre of the Winnipeg Free Press joined Andrew Paterson and Rick Ralph on the Afternoon Ride. They discussed Andrew Copp's arbitration award, the Jets salary cap situation heading into next season and the upcoming negotiations with RFAs Patrik Laine and Kyle Connor.
Jets prospects:
Illegal Curve: Declan Chisholm added to Canada roster for World Junior Summer Showcase.  Big opportunity for the Jets 2018 5th round selection.
Elite Prospects:  A look at the Jets 25th ranked prospect pool.  (Paywall).  Cam Robinson, who appears quite often on our show, takes a look at the Jets system.
Moose news:
Illegal Curve:  Moose sign goalie Adam Carlson to a one-year contract.  More Minnesota Nice added to the organization as they add some ECHL depth.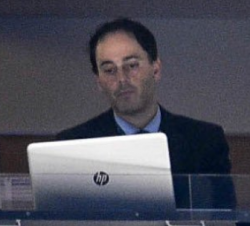 Latest posts by David Minuk (see all)