Note:  On Wednesday the Jets made the Andrew Copp deal official.  The Jets now have a second buyout window which opens on Friday and will remain open for 48 hours as per Cap Friendly.  Stay tuned to see if the Jets exercise this option.
Note II:  Saturday is our final Illegal Curve Hockey Show of the season on TSN 1290 Radio before we take our August hiatus (although don't worry because this site will still be updated whenever there is Jets or Moose news) and we want to hear from you.  We will be talking about the Jets as well as all the recent NHL news throughout the two hour show which will also feature your phone calls.  The show starts at 9 am and will run for two hours.
Jets news:
TSN:  Plenty of questions surround Jets RFAs Laine and Connor.  Dennis trades in his microphone for a pen (or likely his computer) to type up this piece on the state of things with the Jets and covers not just the two big RFA question marks but also the defence.
The Hockey News:  The Jets have space to sign Laine, Connor – but the off-season work won't end there.  A look at what the Jets might do next.
The Athletic Winnipeg: Neal Pionk on his long road to the NHL, unique development path and his opportunity in Winnipeg. (Paywall). Murat has a Q & A with the Minnesotan who will be wearing a Jets uniform for the first time next season.
ESPN:  NHL RFA buzz – Signings, arbitrations and those pesky offer sheets.  As you'd expect Connor and Laine are mentioned.  
Jets audio:
Sportsnet:  The Program.  Sean Reynolds joined Scott Rintoul and Brendan Batchelor to talk about what kind of pressure is on Kevin Cheveldayoff and the Winnipeg Jets as they still haven't signed Patrick Laine or Kyle Connor. They also discuss how the Jets could be impacted by an offer sheet, and whether or not the threat is realistic.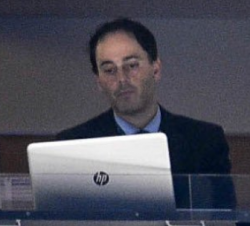 Latest posts by David Minuk (see all)