Note: The Jets now have a second buyout window which opens today and will remain open for 48 hours. As per Cap Friendly "any player bought out must have a cap hit of at least $3,455,438 and was on the clubs reserve list at the trade deadline". Stay tuned to see if the Jets exercise this option.
Note II:  Tomorrow is our final Illegal Curve Hockey Show of the season before we take our August hiatus (although don't worry because this site will still be updated whenever there is Jets or Moose news) and we want to hear from you.  We will be mostly talking about the Winnipeg Jets throughout the two hour show which will also feature your phone calls.  The show starts at 9 am and will run for two hours.
Jets news:
NHL.com:  Mark Scheifele believes Jets are tight-knit team.  The Jets top centre continues to have faith in his team as he spoke from Toronto where he participated in former NHL player Dominic Moore's Smashfest ping-pong tournament.  Article includes a Q&A on players who have left, how you replace them, Laine/Connor unsigned, Jets being eliminated by eventual conference winners each of the past two seasons and whether the Jets are under the radar.
NHL.com: Jets count on Pionk amid departures of defensemen.  Missed this from Scott who looks at where the Jets stand today including key arrivals, key departures, prospects on the cusp, what they still need, fantasy focus and his projected lineup.
TSN:  Plenty of questions surround Jets RFAs Laine and Connor.  Dennis trades in his microphone for a pen (or likely his computer) to type up this piece on the state of things with the Jets and covers not just the two big RFA question marks but also looks at question marks on defence.
Jets video:
Brian Burke explains why he is in favour of the salary cap in the NHL, Mitch Marner and the Winnipeg Jets.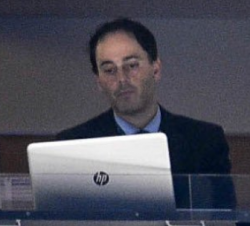 Latest posts by David Minuk (see all)