Note: We will finally have some hockey to watch tonight as the Jets prospects are set to take on the Ottawa Senators prospects at 6:00 pm (streamed on TSN). It is worth noting that goalie Mikhail Berdin and forward Skyler McKenzie are not participating due to injury and have been replaced by goalie Adam Carlson (who the Moose signed) and James Phelan (played first year pro last season for Texas in AHL).  The players hit the ice on Thursday for a practice and our report will bring you up to speed ahead of tonight's action.
Note II:  If you would like a handy list of the folks who cover the Jets on a regular basis I compiled one (which has links to their twitter accounts).  Last person on the list is a must follow (in my humble opinion).
Note III:  The Winnipeg Ice will play their first ever pre-season game tonight against their new provincial rival Brandon Wheat Kings out west at Westoba Place.  Puck drop is at 7:30 pm.
Jets news:
The Athletic Winnipeg:  The road to new deals for Patrik Laine and Kyle Connor.  (Paywall).  Ken's first column for his new publication touches on a subject pretty much everyone in Winnipeg has thought about this summer as he draws his road map to get things done with these two RFAs.
Winnipeg Free Press:  Jets centre Scheifele puts last season's troubles behind him.  (Paywall).  While it is important to take stock of last season the Jets top centre has set his sights on the upcoming year.
Winnipeg Free Press: Jets rookies look to make an impression in tournament. (Paywall). In July at Development Camp there was a lot less pressure on these young guns but this time around there will be more eyeballs evaluating their play.
Winnipeg Sun:  Scheifele praises Wheeler chemistry ahead of potential line shuffle.  It is pretty clear they enjoy playing together but also that 55 is prepared to do what it takes to win.
Winnipeg Sun:  Jets want Vesalainen to 'take charge'.  We tend to focus on the holes at the backend of this roster but there are also a few spots up for grabs up front and the Jets 2017 1st rounder will be looking to become that option for coach Paul Maurice and the Jets.
Winnipeg Sun: Jets' veteran Little looking to put frustration, uncertainty behind him.  Sounds like the veteran is raring to go to erase last season from the memory bank.
Sportsnet:  Nikolaj Ehlers talks Kyle Connor, Patrik Laine, off-season trade rumours.  The Dynamic Dane was in Chicago for the NHL Media Tour and sat down to talk with the guys about his summer.
The Athletic Winnipeg: One-on-one with Paul Maurice: On Patrik Laine's growth, Kyle Connor's ceiling and the team's biggest weakness. (Paywall). This is the second part of Murat's one-on-one chat with the Jets bench boss.
Jets audio:
Illegal Curve:  Centre Mark Scheifele chats pre-traing camp.  Scrum topics included getting back with the group.  What was his focus this summer?  Any highlights of the things that he added?  Thoughts on the Jets departures from last season.  Did he get a chuckle seeing that they'll be playing Trouba early?  Laine/Connor without contracts and his concern about them not being in camp.  Does he stay in contact with them during the summer?  Is it tough balance to wanting team success but wanting players to have success getting a new contract?  On expectations/mindset in the room.  Does he prefer people "overlook them" rather than have high expectations?  Does the Blues winning change the perception on how the Jets season ended?  Are there lessons to be learned from what the Blues did from Christmas to winning the Cup?  How much did he reflect on last season?  On Andrew Copp getting a bigger opportunity with the team next season.  How curious is he to see the different options to play with next season?  What are the keys to finding chemistry?  What did he and Blake find chemistry so quickly?  Would he be opposed to playing without Wheeler if it is for the best for the team?  Can chemistry be an issue if they are missing Connor or Laine?  Superbowl prediction?
Ice news:
Winnipeg Sun:  Ice opens up more season tickets as Winnipeg debut nears.  Lots of fans are eager to see these young kids hit the ice.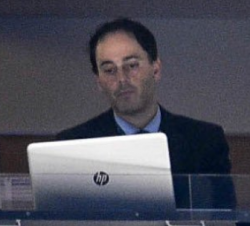 Latest posts by David Minuk (see all)