With August almost concluded it means the 2019-20 season is inching closer and closer.  It gets underway with the Rookie Showcase tournament in Belleville, Ont. from Sept. 6 – 9.  The Jets today have announced their roster as well as game dates/times.
The IcePlex announced that the team will practice on Thursday, September 5th at 11 am before they depart out east.
Update:  Goalie Mikhail Berdin and forward Skyler McKenzie are not participating due to injury and have been replaced by goalie Adam Carlson (who the Moose signed) and James Phelan (played first year pro last season for Texas in AHL) have been added to the roster.
Jets Rookie Showcase roster:
Goalies:  Mikhail Berdin (2016 6th rounder) and Griffen Outhouse.
Defence:  Jacob Cederholm (2016 4th rounder), Declan Chisholm (2018 5th rounder), Leon Gawanke (2017 5th rounder), Luke Green (2016 6th rounder), Ville Heinola (2019 1st rounder), Jonathan Kovacevic (2017 3rd rounder), Hayden Shaw, Giovanni Vallati (2018 5th rounder) and Scott Walford.
Forwards:  Ryan Chyzowski, David Gustafsson (2018 2nd rounder), Joona Luoto, Bobby Lynch, Cole Maier, Skyler McKenzie (2017 7th rounder), Kamerin Nault, Cedric Pare, Sergey Popov, Kristian Reichel, C.J. Suess (2014 5th rounder), Luke Toporowski and Kristian Vesalainen (2017 1st rounder).
The players the Jets have drafted are noted above.  In addition to these guys Finnish forward Joona Luoto, whom they signed this summer, is on the roster as are a number of players who have spent time with the Moose (AHL) or Icemen (ECHL) including:  Hayden Shaw, Kamerin Nault and Kristian Reichel.
Games:
Game 1: Ottawa vs. Winnipeg Sept. 6 6:00 pm
Game 2:  Ottawa vs Montreal.
Game 3: Montreal vs. Winnipeg Sept. 8 6:00 pm
Game 4: Winnipeg vs. Ottawa Sept. 9 6:00 pm
Once this tournament wraps up you can expect to see a number of these players back in Winnipeg for training camp.  And a number of the pros will continue their development in the AHL with the Manitoba Moose.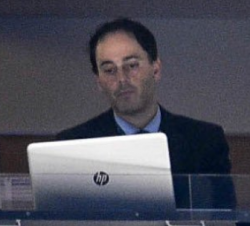 Latest posts by David Minuk (see all)