Note: The Jets prospects will practice today at 11 am out at Bell MTS IcePlex ahead of their departing for Belleville, Ontario to take part in the Rookie Showcase against the Habs and Sens prospects.  Here is our report ahead of the tournament.
Note II:  Big news on Wednesday was the report that Josh Morrissey and the Jets have engaged in some preliminary extension talks and the top pairing D man spoke about his desire to stay in Winnipeg long term.
Note III:  If you would like a handy list of the folks who cover the Jets on a regular basis I compiled a list (which has links to their twitter accounts).  Last guy on the list is a must follow (in my humble opinion).
Jets news:
Winnipeg Sun: Jets' veteran Little looking to put frustration, uncertainty behind him.  Sounds like the veteran is raring to go to erase last season from the memory bank.
The Athletic Winnipeg: One-on-one with Paul Maurice: On Patrik Laine's growth, Kyle Connor's ceiling and the team's biggest weakness. (Paywall). This is the second part of Murat's one-on-one chat with the Jets bench boss.
Winnipeg Free Press: Second-line middle-man position Little's to lose. (Paywall).  Little is the man in the middle but the biggest question is in the middle of whom?  We shall learn that soon enough.
Winnipeg Free Press: Little centre of attention for Jets. (Paywall).  Plenty of eyes on that 2nd line centre spot for the 2019-20 season.
Winnipeg Free Press:  Morrissey, Jets talking about long-term extension.  (Paywall).  Mike McIntyre, who will join us on this Saturday's Illegal Curve Hockey show, writes about Morrissey's potential contract, his thoughts on Laine/Connor, Trouba leaving and more.
Winnipeg Sun:  Morrissey would love to play whole career with Jets.  As I tweeted yesterday I didn't think Josh Morrissey could get much more popular here in Winnipeg but his comments yesterday will take him to the next level.
Winnipeg Sun:  Losing Trouba tough, but Morrissey marching onward.  Trouba & Morrissey could have been quite the top pairing tandem for this organization for years but that was not to be.
NHL.com: Laine, Connor could miss camp, but Jets claim it won't be distraction.  The players can say whatever they want but eliminating 60+ goals from the roster (and I suspect that will be 80+ this season) is going to be a pretty, pretty, pretty big distraction.
Grand Forks Herald:  Winnipeg's changes on defense may open door for Tucker Poolman.  (Requires answering a survey question to read). Brad caught up with the D man in Grand Forks who is going to have a big opportunity in front of him this season in Winnipeg.  If he can continue his play from last season with the Moose he should prove more than able to handle it.  (Note: Since Brad's paper is US based they use the American spelling of defence in the headline which I left alone).
The Athletic Winnipeg: On centre issues, changes for 2019-20 and the future of his young stars. (Paywall). Murat sat down with the Jets bench boss for a one-on-one chat.  (This is part one of two).
Jets video:
Sportsnet:  Making a case for Jets to move on from Patrik Laine.  HC host David Amber explains to SN Today why he's not convinced that Patrik Laine's fit is still in Winnipeg, and why he's the RFA with the highest probability of playing on a different team. (Editor's note:  I personally think this talk is a bit bizarre.  I just don't see the Jets walking away from a potential 50 goal scorer.).
Jets audio:
Manitoba Moose head coach Pascal Vincent joined Andrew Paterson and Rick Ralph on the Afternoon Ride. They discussed the Jets roster for the Rookie Showcase in Belleville, the goal for the organization at the tournament, how they'll approach the first practice, what they've learned from past tournaments and how the staff performs their player evaluations.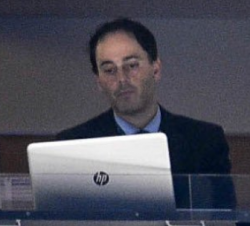 Latest posts by David Minuk (see all)