Note:  Prospect Development Camp begins with practice sessions today.  The Jets released the roster on Monday while the schedule was released last week.
Note II:  Perhaps the biggest news of the weekend was that the salary cap was set at $81.5 million dollars for this season.  We took a look at how this impacts the Winnipeg Jets with comments from GM Kevin Cheveldayoff.   To read click here.
Note III:  Speaking of salary cap the Jets have until 4 pm CT to tender qualifying offers to their RFAs and in the end just six of 11 RFAs received a qualifying offer from Winnipeg.
Jets news:
Illegal Curve: Mark Scheifele with a shot to remember at his KidSport hockey camp. Over the weekend the Jets top centre went full Happy Gilmore at his camp.
Winnipeg Free Press:  Nothing but love for roommate lost to Jets.  (Paywall).  Missed this one yesterday as Jay talked to local NHLer Brett Howden about the Jets newest defenceman.
Sportsnet:  Rumoured Myers price tag overshadows Canucks' pickup of Miller.  With the numbers being thrown around for Tyler Myers he won't be wearing his number 57 in a Jets uniform next season.  They don't call this silly season for nothing.
TSN: Button's Prospect Pool Ranking. TSN Hockey Director of Scouting Craig Button goes over all the Canadian teams (head to the bottom if you just want to read about Winnipeg) and how they did this past draft and updates their prospect rankings. Do you agree how to listed the Jets prospects?
Jets audio:
Mike McIntyre of the Winnipeg Free Press joined Andrew Paterson and Rick Ralph on the Afternoon Ride. They discussed the upcoming off-season for the Winnipeg Jets, what the Jets defense may look like next season, the next contracts for the Jets RFAs and the team's salary cap situation.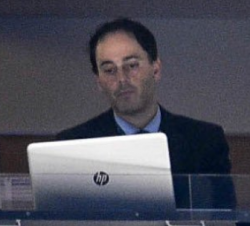 Latest posts by David Minuk (see all)