While the hockey world gathered in Vancouver this weekend to presumably wheel and deal they were forced to contemplate moves without an actual hard number for the 2019-20 salary cap.  Eventually on Saturday the NHL and NHLPA jointly announced what the official salary cap figure would be for the upcoming season indicating:
The NHLPA and the NHL announced that the Team Payroll Range established for the 2019-20 League Year, pursuant to the Collective Bargaining Agreement, provides for a Lower Limit of $60.2 million, an Adjusted Midpoint of $70.9 million and an Upper Limit of $81.5 million.
There was some talk in December that the upper limit would be close to $83.0 million which would provide some latitude for teams who are going to be tight to the cap this coming season.  It has been suggested that this reduction to $81.5 million could last a couple of seasons and would mean teams would have to "tighten their belts" while they wait for the new US television deal to begin in a couple of years when the upper limit of the salary cap would bump up.  But what does this mean for a team like the Winnipeg Jets that have a number of RFAs to get signed to new deals?
We spoke to Jets GM Kevin Cheveldayoff on Saturday night after the conclusion of Day 2 of the NHL Draft and Drew asked him about his initial thoughts on seeing that final number.  "Well you've heard the rumours of it here for the last, certainly couple of days since we've been here and you're positioning yourself to obviously change some things that might have been on your spread sheet because of some prior type of intel that had been handed out or anything like that.  Now we have our number and it becomes your basis of what you and the other 30 teams have to work with and you roll up your sleeves, sharpen your pencils and go from there."
Drew followed this up asking how difficult it is to do his job when you don't get that information until so late.  "Ya I think its something that everyone discusses.  There are different levels of it even too.  You're signing whatever two, three, four, five, seven, eight year contracts with players that, again, you're dealing purely on speculation on a lot of fronts.  We know the cap is a derivative of hockey related revenue and there is a mechanism in there as well from an inflator stand point that used to be something that was kinda a given that the full inflator was going to be used and the last couple of years it's only been a fraction of that inflator that has been used.  Again, we can be frustrated and we can say whatever we want but now we have our number and again we have to go to work."
And looking at who the Jets GM has remaining to get signed "we have to go to work" is a pretty accurate statement.
According to CapFriendly the Jets currently have a projected cap hit of $57,627,497 for the 2019-20 season.  Of course that is with just 14 players under contract.  There is also some potential performance bonus money to factor in as well as a long list of RFAs that will need new contracts for the upcoming season and potentially a UFA or two as well including:
RFAs: Patrik Laine, Andrew Copp, Kyle Connor, Nathan Beaulieu, Joe Morrow & Neal Pionk.
UFAs: Brandon Tanev, Par Lindholm, Matt Hendricks, Bogdan Kislevich, Ben Chiarot & Tyler Myers
This leaves the Jets with $23,872,503 in cap space remaining and while that may seem like a big number a large portion will likely be eaten up with contracts to Patrik Laine and Kyle Connor.
Should make for an interesting time here in Winnipeg.  Stay tuned.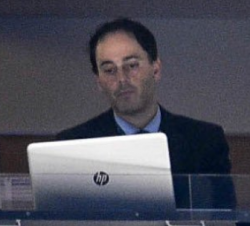 Latest posts by David Minuk (see all)