Note:  It wasn't an overly busy two days in Vancouver for the Jets as their ninth NHL Entry Draft has now concluded.  Just because the Entry Draft has ended and summer is here it doesn't mean that vacation has begun…yet.  In fact the courting period for free agents began on Sunday ahead of free agency which opens on July 1st.  Yesterday Jets D man Tyler Myers met with the Canucks as he explores his options as a pending UFA.
Note II:  Prospect Development Camp begins today with medicals and testing (on and off the ice) with practice sessions starting on Tuesday.  The Jets released the roster today. The schedule was released last week and you can read it here.
Note III:  Perhaps the biggest news of the weekend was that the salary cap was set at $81.5 million dollars for this season.  We took a look at how this impacts the Winnipeg Jets with comments from GM Kevin Cheveldayoff.   To read click here.
Jets news:
TSN: Button's Prospect Pool Ranking. TSN Hockey Director of Scouting Craig Button goes over all the Canadian teams (head to the bottom if you just want to read about Winnipeg) and how they did this past draft and updates their prospect rankings. Do you agree how to listed the Jets prospects?
Winnipeg Sun:  Draft complete, page turns back to roster building.  Time to sharpen the pencils and ensure all cell phone batteries are fully charged for Jets GM Kevin Cheveldayoff and his staff as they have plenty of work to get done.
Winnipeg Sun:  Jets add picks to pipeline.  The reality is these kids won't be seeing an NHL rink anytime soon but that isn't a bad thing as you look for long-term franchise success. 
Winnipeg Free Press: Jets facing tough calls under cash crunch. (Paywall).  Missed this one from Mike on the tough decisions that are coming for Winnipeg.
Winnipeg Free Press:  High hopes for Jets' draft picks.  Gain some insight into what the Jets director of amateur scouting thought about each of his team's five selections this past weekend.
Winnipeg Free Press: Jets star forward a hit with kids.  Nice for Scheifele to give back.  And you never know, one of these kids could be in this exact same situation ten years from now.
ESPN:  2019 NHL draft grades. (Paywall).  Chris Peters, who is a beast when it comes to draft knowledge, gives his best picks, value steals and more for all 31 teams.
Illegal Curve Hockey NHL Draft Show Replay:
Covers: Looking back at Round 1 of the 2019 NHL Draft on Friday,  Rounds 2, 3 and 4 of the 2019 NHL Draft in Vancouver.
Interviews: Mike McIntyre (Winnipeg Free Press), John Matisz (National hockey writer for theScore) & Simon Lundmark (Jets 2nd round pick).
To listen to part 1 click here.
Covers: Rounds 4, 5, 6 and 7 of the 2019 NHL Draft in Vancouver.
Interviews: Josh Cooper (The Athletic LA), Harrison Blaisdell (Jets 5th round pick) and Jets GM Kevin Cheveldayoff.
To listen to part 2 click here.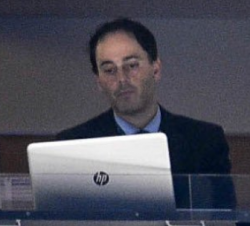 Latest posts by David Minuk (see all)