Note:  It wasn't an overly busy two days in Vancouver for the Jets as another NHL Entry Draft has now concluded.  Just because the Entry Draft has ended and summer is here doesn't mean that we are on vacation…yet.  In fact the courting period for free agents begins today before the free agency opens begins on July 1st and we are also turning our focus to the Winnipeg Jets prospects who will descend on the city for the start of prospect Development Camp.
Note II:  Speaking of Development Camp it is happening this week (on ice/open to public on Tuesday) and we can likely expect to receive the roster sometime soon. The schedule was released last week and you can read it here.
Jets news:
Winnipeg Sun:  Jets add European flavour.  It is certainly evident that the Jets Euro scouts had a lot of sway this draft as the local NHL squad added three European players (two Finns and a Swede) with their first three selections yesterday.  
Winnipeg Free Press:  Jets cast wide international net on Day 2.  (Paywall).  When asked about his team's willingness to draft players from all leagues Jets Director of amateur scouting Mark Hillier said "I don't care where they come from I'm just trying to find NHL players. That's the bottom line."  He even dropped a Finnipeg reference.
Winnipeg Free Press:  Scheifele never too far from rink.  (Paywall).  Jason caught up with the Jets alternate captain who was in Winnipeg for his fifth annual hockey camp in support of KidSport Winnipeg.
The Athletic: Grading the Winnipeg Jets' 2019 draft class. (Paywall).  I always find it amusing that we judge players seconds after they've been drafted.  Obviously you can think a player was selected higher than they should have been but it really is difficult to know what these players will become.  
Illegal Curve Hockey NHL Draft Show Replay:
Covers: Looking back at Round 1 of the 2019 NHL Draft on Friday,  Rounds 2, 3 and 4 of the 2019 NHL Draft in Vancouver.
Interviews: Mike McIntyre (Winnipeg Free Press), John Matisz (National hockey writer for theScore) & Simon Lundmark (Jets 2nd round pick).
To listen to part 1 click here.
Covers: Rounds 4, 5, 6 and 7 of the 2019 NHL Draft in Vancouver.
Interviews: Josh Cooper (The Athletic LA), Harrison Blaisdell (Jets 5th round pick) and Jets GM Kevin Cheveldayoff.
To listen to part 2 click here.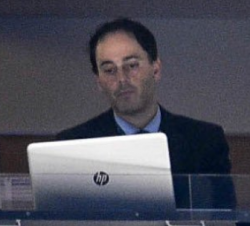 Latest posts by David Minuk (see all)