Note:  The 1st round of the 2019 Draft is finally here and will take place tonight in Vancouver at Rogers Arena starting at 7 pm CT.  Rounds 2-7 will continue on Saturday starting at 12 noon CT.  We will be bringing you wall to wall coverage of the rounds 1-7 of the draft here on the website and rounds 2-7 on The Illegal Curve Hockey Show which will start at Noon CT on TSN 1290 Winnipeg.  Throughout the day on Saturday we will chat with the Jets draft picks as part of our comprehensive coverage which will continue until the end of the draft and we will end our day with a chat with Jets GM Kevin Cheveldayoff.  We've got a handy Jets Draft Primer as well to get you ready.
Note II:  Speaking of the Jets GM he spoke yesterday in Vancouver after the GM meetings.  Quite a bit covered.  Give it a listen here.
Note III:  With the Jets back to having a 1st round pick Ez took a look at some of the possible players they could draft with pick number 20.  Check it out here.
Note IV:  The NHL released the home openers for all 31 teams and it meant three Jets games are now revealed with the full season schedule coming out on Tuesday.
Jets news:
Winnipeg Sun:  Tough to gauge who Jets could be focusing on in first round.  With such a deep draft it will be quite an exciting night in Vancouver.
Winnipeg Sun:  Connor not worried about new deal as Jets left-winger sees room for further growth.  He may not be worried but I suspect there are quite a few fans that have it on the brain.
Winnipeg Sun:  Connor hitting the links with pros.  Weird for Ken to be writing articles about golf since he is usually the one hitting the links.  This time he writes about the Jets winger participating in this tournament.
Winnipeg Free Press:  Jets GM Kevin Cheveldayoff's greatest drafting hits, biggest flops and missed opportunities.  (Paywall).  Mike looks back in time and lets you know where he feels the team did well and where they didn't do quite so well.
Winnipeg Free Press:  Connor to tee it up at Players Cup.  (Paywall).  If you're into golf then you may choose to watch the Jets forward tee it up later this summer.
CBC: A look at the to-do list for each Canadian team. Pretty straightforward.
Jets audio:
Winnipeg Jets forward Kyle Connor joined Andrew Paterson and Rick Ralph on the Afternoon Ride. They discussed his decision to accept a sponsor's exemption to compete at The Players Cup on the Mackenzie Tour, his golf game, playing other sports growing up and what he remembers about being drafted back in 2015.
In the 42nd episode of Ground Control, Jamie Thomas and Mitchell Clinton discuss the tidbits of info from Kevin Cheveldayoff and Mark Hillier prior to tomorrow's first round of the NHL Draft. Jamie also wraps up his four-part series of interviews with Winnipeg scouts. Today's guest is amateur scout, Brian Renfrew!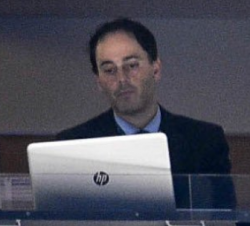 Latest posts by David Minuk
(see all)