Now that the Winnipeg Jets have their 1st round pick back (20th overall) courtesy of the Jacob Trouba trade with the New York Rangers and with the 2019 NHL Draft rapidly approaching (Round 1 is just two days away on Friday, June 21 in Vancouver) we thought it would be a good time to look at some of the players who could be available for the Jets when they step up to the podium.
The Jets didn't have a 1st round selection in last year's draft (traded to the St.Louis Blues in the Paul Stastny trade) but prior to the 2018 NHL Draft in Dallas, the Jets have consistently drafted well in the First Round since the team relocated from Atlanta back in 2011.
Now it is almost impossible to know who the Jets are going to draft at 20th overall on Friday for obvious reasons but we do know that top prospects Jack Hughes, Kappo Kakko and Bowen Byram will certainly not be available when the Jets make their pick.
With help from TSN Director of Scouting Craig Button and Dobber Prospects editor Cam Robinson, here are seven players who the Jets might select with the 20th overall pick with quotes and notes from Button and Robinson. (Editor's note: There are obviously more than seven players who could be options for the Jets but based on TSN and Dobber Prospects rankings and mock drafts, these are seven players who we think are viable options for the Jets at #20. The notes and quotes from Cam Robinson and Craig Button are not specific to the 20th overall pick and/or the Jets holding that pick).
Raphael Lavoie, Center, Halifax Mooseheads (QMJHL)
2018'19 stat line: 62 Games Played, 32 goals, 41 assists, 73 points
There is a good chance that Lavoie will be selected before the Jets step up to the podium with the 20th overall pick, but we have included him here because he is projected to be a mid 1st round pick and could fall to the Jets at 20th overall. Lavoie is ranked #20 amongst North American skaters by NHL Central Scouting but was previously ranked #13 by NHL Central Scouting in their midterm rankings. Button had Lavoie ranked #17 in his most recent Craig's List.
From Craig Button, TSN Director of Scouting on Saturday's Illegal Curve Hockey Show: "He's got a real ease to his game. He works with his mind and he works efficiently and works smartly… A really good offensive mind, a really good player around the net with size."
Bobby Brink, Right Wing, Sioux City Musketeers (USHL)
2018'19 stat line: 43 games played, 35 goals, 33 assists, 68 points
To say that Brink tore up the USHL this past season would be a huge understatement.The Minnetonka, Minnesota native averaged 1.85 points per game during the regular season for Sioux City and was essentially a threat to score every time he was on the ice. Brink was ranked 20th overall in Craig Button's most recent Craig's List and has elite offensive skills. We know that the Jets scouting staff isn't afraid to draft players from the USHL (Trouba, Connor, Roslovic, Appleton, Suess, etc.) so Brink could be a very intriguing option if he's available at #20.
From Craig Button, TSN Director of Scouting on Saturday's Illegal Curve Hockey Show: "He reminds me of former NHLer Chris Drury…There's not a lot of sex appeal to Bobby Brink's game… He's a really effective player in all different areas of the game… The current NHLer he reminds me of is Justin Williams…I think he's that player that can play in a lot of different spots on your team with a lot of different players because he has the skill and he has the smarts"
Moritz Seider, Defenceman, Mannheim Eagles (DEL)
2018'19 stat line: 29 games played, 2 goals, 4 assists, 6 points
First of all, Seider is a right shot defenceman who impressed scouts playing in German's top league with much older men. His stats might not look impressive but it's his size and poise with the puck that stands out. The Jets might be looking elsewhere with the 20th overall pick, but make no mistake, Seider is on the first round radar of lots of amateur scouts. Seider was ranked 26th on Craig Button's most recent Craig's List and Chris Peters of ESPN.com had him ranked #15 in his Final rankings.
From Craig Button, TSN Director of Scouting on Saturday's Illegal Curve Hockey Show: "He's a really good skating defenceman. The way I describe Moritz is just watch Brandon Carlo play of the Boston Bruins. Big, rangy, takes up space, moves the puck effectively, can skate, can play those minutes, he's territorial. I don't think he's going to be an offensive defenceman… You need defencemen that can close the play, that can get to the puck and that can move the puck and Moritz Seider does all of those things. When I watch him play, that's what I see, a Brandon Carlo clone."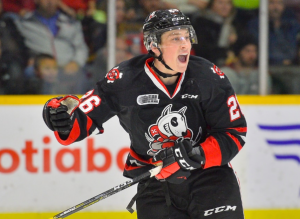 Philip Tomasino, Center, Niagara IceDogs (OHL)
2018'19 stat line: 67 games played, 34 goals, 38 assists, 72 points
The statistic that stands out for Phil Tomasino is his jump from 24 points during his rookie season to 72 points this past season on a very good Niagara IceDogs team. The scouting report on Tomasino is that he has good speed and a well-rounded game. It should be noted that even though Tomasino is listed as a Center he spent the majority of the year on the wing. Tomasino also had 5 points in 6 games for Team Canada at the 2019 World Junior Hockey Championship. Craig Button had Tomasino ranked #23 on his most recent Craig's List while ESPN.com's Chris Peters had Tomasino ranked #21 in his Final Draft Rankings.
From Cam Robinson of Dobber Prospects: "A highly intelligent, two-way centre with good puck skills and a penchant for scoring big goals. Quick stride, good puck-skills and a heavy release. Underrated playmaker. His developmental arc has been racing upwards while being a standout on an elite OHL team – no easy feat for a 17-year-old. "
Ryan Suzuki, Center, Barrie Colts (OHL)
2018'19 stat line: 65 games played, 25 goals, 50 assists, 75 points
Ryan Suzuki is the younger brother of Montreal Canadiens prospect Nick Suzuki (who was drafted 13th overall by the Vegas Golden Knights in 2017 but then traded to Montreal in the Max Pacioretty trade). Suzuki was ranked 18th amongst North American skaters by NHL Central Scouting and is considered to be one of the better playmakers in the draft. Even though it has become a huge cliche in hockey, scouts rave about his Hockey IQ. It should be noted that six of the past seven eligible first overall picks in the OHL landed in the opening round. We also know the Jets/Thrashers have previously drafted three centres from the Barrie Colts in the First Round (Bryan Little, Alex Burmistrov and Mark Scheifele).
From Cam Robinson of Dobber Prospects: "Creative and efficient playmaking pivot. He boasts a level of vision and soft touch that few possess in this class. Very poised and patient with the puck. Plus speed. Can get lost on the perimeter for stretches."
Ville Heinola, Defenceman, Luuko Rauma (SM-Liiga)
2018'19 stat line: 34 games played, 2 goals, 12 assists, 14 points
Ville Heinola is a left shooting defenceman who played against men this past season with Lukko in the Finnish Liiga. Heinola is a smaller rearguard (5'10", 175 lbs.) who many scouts believe can be a Top-4 defenceman at the NHL level because of his elite vision and intelligence. Heinola can also play both sides. In recent years, the Jets have drafted Patrik Laine, Sami Niku, Kristian Vesalainen and Santeri Virtanen so we know that the Jets amateur scouting staff isn't afraid to draft a player from the great country of Finland.
From Cam Robinson of Dobber Prospects: "A talented and effective offensive defenseman who boasts quick acceleration and expert edgework. Makes smart decisions with the puck and already looks confident in the top men's league. He'll need to continue to improve his positioning as his stature doesn't allow him to outmuscle. Had a very nice WJC on the top pair for Finland. Already a pro"
Connor McMichael, Center/Left Wing, London Knights (OHL)
2018'19 stat line: 67 games played, 36 goals, 36 assists, 72 points
Connor McMichael might not be a very well known prospect outside of the Ontario Hockey League but many scouts believe he could eventually be a Number-2 centre at the NHL level. McMichael was also one of the top draft-eligible producers in the OHL this season. McMichael is a good two-way player who can be tenacious on pucks. Also take it for what it's worth but Craig Button recently had Connor McMichael going to the Jets at #20 in TSN Hockey's Mock Draft 5.0
From Cam Robinson of Dobber Prospects: "The pivot brings across-the-board skills without really excelling in any one skill. The all-around pivot is not the biggest or fastest player, but he's effective at finding seams and distributing the puck. He owns a quick and accurate release and can finish at a high rate. He's not afraid to work into the high-traffic areas. He projects to be a safe floor NHLer with some top-six upside."