The Illegal Curve Hockey Show airs Saturdays on TSN Radio1290 from Noon to 3pm.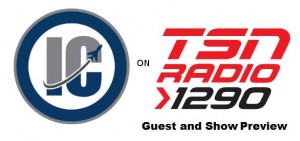 This Saturday on the Illegal Curve Hockey Show we have an action packed three hours.  Almost as exciting as the post season, will be the new crew hosting and analyzing the playoff action.  Illegalcurve.com's co-editor David Minuk will be hosting, along with analyst Michael Remis and special guest analyst Darrin Bauming.
We will be joined by our guests:
Matt Loughlin, radio play-by-play voice of the New Jersey Devils will be joining us at 1:00 pm to talk about the Devils and Panthers series.

James Gordon of the Ottawa Citizen will join us at 1:30 pm to discuss the first round match-up between the Senators and Rangers.
Jeremy Rutherford of the St. Louis Dispatch who covers the St. Louis Blues will join us at 2:00 pm to talk Blues and Sharks.
Other topics on the show will include:
-Jets news (Byfuglien's trial, World Championships)
-IceCaps first playoff game
-Mark Scheifele being assigned to the IceCaps
-Eastern Conference playoff picture
-Western Conference playoff picture
-Regular segments, NHL News & Notes, Six Things We Learned This Week and Rapid Fire
Tune in tomorrow from 12pm-3pm and listen to the Illegal Curve Hockey Show on TSN Radio 1290.  If you miss the show you can find it by searching for the Illegal Curve Hockey Show on iTunes and subscribe to the podcast.