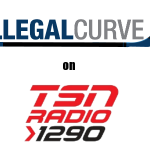 So early that it won't yet be bright, The Illegal Curve Hockey Show will take to the airwaves of TSN 1290 Saturday morning, beginning at 7:00 AM.
Right off the top of the show, we will have the thrilling conclusion to "The Illegal Curve Will Ezzy Wake up Early Charity Challenge." If you have not yet chosen sides, click that link, and get your wagers, pledges and predictions on the record and in perpetuity.
Our first guest, at 8:00 AM, is Robin Short, sports editor of the St. John's Telegram. Robin covers the St. John's IceCaps, AHL affiliate of the Winnipeg Jets and with the AHL season entering the stretch drive along with the NHL season, what better time to get an update on the Eastern Conference leading IceCaps?
At 8:30 AM, we will be joined by our good friend Aaron Portzline of the Columbus Dispatch. Most pundits would declare the Blue Jackets as the team to watch as we approach Monday's NHL trade deadline.  Last night the Jackets traded Jeff Carter to the Los Angeles Kings and now the focus of the hockey world turns to Rick Nash and where he could end up.
At 9:00 AM, we will be joined by Jeremy Rutherford of the St. Louis Post Dispatch. With the Jets and Blues taking to the MTS Centre ice later on Saturday afternoon, Jeremy will join us to discuss the contest between the two teams and provide some analysis on what has been a tremendous year so far for the team from the "Show Me State".
Additional guests may be added, so stay tuned to this post and our Twitter page for news on that front.
All that, plus your tweets, emails and (maybe, but not likely) phone calls (204-780-1290). Best tweets and emails will receive exciting Illegal Curve merchandise!
Join us Saturday from 7 AM – 1000 AM on TSN 1290 in Winnipeg and online at tsn.ca/Winnipeg