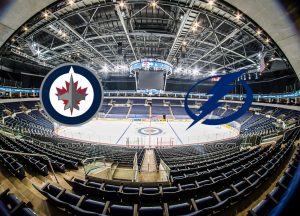 The Jets have had a few days off since their last contest against Vancouver on Tuesday although they only practiced yesterday as they get ready to wrap up this three-game homestand.  Tampa Bay comes into tonight's action having gone 8-2-0 in their last 10 games although it is worth noting that they played last night in St. Paul where they lost to the Wild by a score of 3-2.
The lines and D pairs are based on yesterday's practice.  No word as to which goalie gets the start for Winnipeg.
Pre-Skate news:
Moose defenceman Cam Schilling has been recalled.
Morning Skate:
As per Scott Billeck of the Winnipeg Sun no Connor Hellebuyck at the skate so he is expected to start against the Bolts.
Lineup Changes:
Gabriel Bourque comes in on the 4th line for Jansen Harkins.  Also Dmitry Kulikov is healthy and will return to the lineup.
Projected Lines & D Pairs:
Connor-Scheifele-Laine
Copp-Wheeler-Ehlers
Perreault-Lowry-Roslovic
Bourque-Shore-Appleton
Morrissey-Kulikov
Niku-Pionk
Bitetto-Sbisa
Hellebuyck
Brossoit
Audio:
Mathieu Perreault on what they will see tonight against the Lightning, follow-up to his comments from yesterday, his frustration with the NHL's decision, hearing from the NHL and the reason they gave him for why they didn't discipline Virtanen.
Andrew Copp on what stands out about the Lightning, how much of a shot in the arm the win over the Canucks provided, on Anthony Bitetto being a beloved teammate, and it helping him fit in.
Coach Maurice:  Any lineup changes?  Was the win over Vancouver a shot in the arm for the team? How far has the 4th line come?  On Appleton on the penalty kill. Is it just a match up thing regarding the Bourque/Harkins flip flop. How does he feel his team matches up with Tampa? On the Lightning turning things around. Does he want his team shooting more. How does it power play impact 5 on 5? Where is his comfort level with his group of D men?
Audio courtesy of TSN 1290 Winnipeg.
Up Next:
Puck drop is at 7:00 PM CST.  Be sure to head over to illegalcurve.com following the game for a recap of the action which includes post-game audio from the Jets room as well as from Coach Maurice.