There are few places in the city that are as iconic as Portage and Main.  That isn't for the beauty of the space but due to the significant (in this context) sports moments that have happened there including the signing of Bobby Hull (June 27, 1972), the signing of Dale Hawerchuk (August 13th, 1981), Save the Jets rallies (95′ & 96′), Canada Gold Medal celebrations (02′, 10′ & 14′), Return of the Jets rally (11′) to name a few.  Seizing on this history True North announced earlier in the week that they would be making the jersey reveal and alumni roster announcements at this very spot.
On August 5th Jets fans from across the city came down to Portage and Main for the chance to witness this new moment in the sports history of this city.  The first 500 fans, who began showing after 11 am, were treated to free hot dogs as they got ready for the 12 noon announcement.
Mick E. Moose was there to pump up the crowd.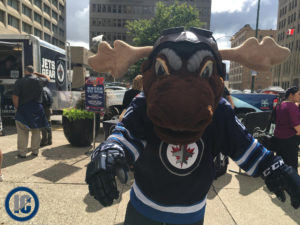 They even had DJ John Skene spinning for the fans.
Of course it wouldn't be a sports event in this city without Dancing Gabe in attendance.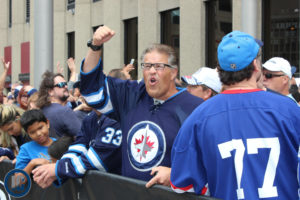 Fans lined up for P1 spots early so they could be close to the action.
Introductory comments were made by Scott Brown, Senior Director of Hockey Communications for the Jets.
He introduced Jets co-owner Mark Chipman who delivered his comments about the Heritage Classic.
Video:
Then former Jets great Dale Hawerchuk and his Oilers counterpart Kevin Lowe spoke about the alumni game and introduced both team rosters.
#25 Thomas Steen wore the alumni uniform while Winnipegger and former Oilers tough guy Dave Semenko wore the Oilers alumni jersey.
Scott Brown then introduced Oilers goalie Cam Talbot and Jets winger Blake Wheeler.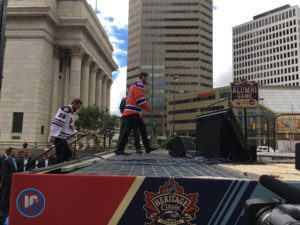 Dave Semenko, Cam Talbot, Blake Wheeler and Thomas Steen showing off the alumni and Heritage Classic jerseys that will be worn October 22nd and 23rd at IG Field.
Interviews followed the formal speeches.  Including:
Blake Wheeler (listen here).
Dale Hawerchuk (listen here).
Jets co-owner Mark Chipman (listen here).
And then Blake Wheeler stuck around signed autographs, took pictures and chatted with fans in the crowd.
If you'd like an up close and personal view of the Jets new Heritage Classic uniform which also provides some details about the thought process behind the design.
Did you make it to Portage & Main?  If you did (or even if you didn't) what did you think of the presentations as well as the uniforms?