This really has been an amazing three months or so for the city of Winnipeg.
If you'll indulge me….
In late May, True North Sports & Entertainment Chairman Mark Chipman announced that the Atlanta Thrashers had been purchased and that the NHL was coming back to Winnipeg 15 years after the city lost its first team.

In early June, TNSE launched the Drive to 13,000 campaign and Winnipeggers bought 13,000 season tickets in four days.
In late June at the NHL Entry Draft in St.Paul, Minneapolis, after weeks of speculation, TNSE announced that the team would in fact be called the Jets much to the city's delight.
In late July, after a leak, TNSE revealed the new Jets logo on a Friday and over $200,000 in merchandise (mostly hats and t-shirts) was snapped up by Sunday.
That was just hockey-related news.
As of early August, the CFL's Winnipeg Blue Bombers were tied for 1st overall in the league with a 5-1 record while the American Association's Winnipeg Goldeyes were also competing for 1st place in their division.
To top it all off, all this was happening as Winnipeg was experiencing one of its hottest summers on record, as daily temperatures of +30 C were the norm.
But there is always someone waiting to pop the figurative balloon isn't there?
More on the buzz kills after the jump.
First it was the Royal Canadian Air Force-inspired logo that TNSE unveiled, which was too militaristic.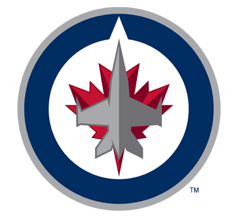 I didn't really mind that, as people are entitled to their opinion, I told myself.
But then Bob McCown went on his radio show on The Fan 590 and said that "no fewer than three members of the Atlanta Thrashers… no fewer than three who are now Winnipeg Jets who are actively pursuing alternatives. Actively pursuing alternatives."
McCown went on to explain that players were having difficulty finding suitable houses to rent in Winnipeg.
Really Bob? Is it that slow of a news day?
Winnipeggers have been down this road before. CBC's Mike Milbury and Glenn Healy both stated that players didn't want to come to Winnipeg if the NHL was going to come back and that agents were even looking at ways to change players contracts to reflect this desire.
So why are McCown's comments bothersome. Simple. Where are the names?
Is it 21-year-old defenseman Zach Bogosian, who remains a restricted free agent?
Is it veteran forward Nikolai Antropov who was recently spotted in Winnipeg looking for a house?
It surely isn't Andrew Ladd or Blake Wheeler who just signed contracts to play in Winnipeg for five years and two years respectively.
It's also not Chris Mason, who has been on The Illegal Curve Hockey Show three times and has always said positive things about the city.
The reality is that there are probably no fewer than three players on EVERY NATIONAL HOCKEY LEAGUE TEAM that are actively pursuing alternatives to play in other cities. This is not just happening in Winnipeg.
Forgetting the vague nature of Bob McCown's comments for a second, it seems awfully opportunistic to mention that certain players are unhappy with their real estate choices in the smallest hockey market in the NHL.
A little too "convenient" if you ask me.
Here is one thing that I can tell you with certainty.
I have been to Calgary, Vancouver, Montreal, Minneapolis, Ottawa and Chicago and the support for Winnipeg getting an NHL team back has been overwhelmingly positive.
Sure, there have been some naysayers. But it's been few and far between to find anyone who seems to harbour negativity.
So, I've got news for you, Bob. There might be a few players who aren't thrilled to be moving to Winnipeg but if they are already under contract they're unfortunately stuck here until they get traded or their contract expires.
If they really want out they can talk to Jets GM Kevin Cheveldayoff or Assistant GM Craig Heisinger. They should probably get on that soon though as the regular season is about two months away.
Until then, we're kind of busy having a summer-long party to celebrate the Jets coming back.
You can't hold Winnipeg Jets fans down this summer.