While we have already given you a breakdown of who won which event and which side was crowned the eventual champion, if you weren't one of the 10,505 inside the MTS Centre last night, here are some pictures and videos from the party like atmosphere within the arena.
Player announcement: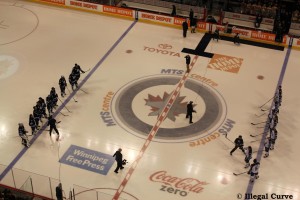 MC from TSN Dennis Beyak introduces the Skills Competition Trophy:

Breakaway Competition:
Kyle Wellwood refused to share his secrets with Dennis before he shot on Mason:

Of course it proved for naught as he was stopped by the Jets veteran netminder:

Check out Burmistrov's breakaway move:

Fastest Skater:
The big money was on Kane, but guys like Bryan Little clocked in not too far behind:

Evander Kane goes for round 1:

Shooting Accuracy:
The King was Kyle Wellwood who went 4/4 in 9.38 seconds:

Wellwood receives kudos from Team White:

Big Buff gives accuracy a shot:

Puck Relay:
Longtime Moose favorite Jason Jaffray waits his turn:

While Bryan Little waits on the other side:

Here is a video of one of Heat 2, ending with Chris Thorburn and Dustin Byfuglien going head-to-head:

Hardest Shot:
Jason Jaffray with a blast of 94 mph:

The player labeled by Big Buff as his biggest competition, Tim Stapleton blast it home at 96 mph:

Dennis Beyak asks Tim Stapleton about his surprising (to the crowd) slapshot:

Jets captain Andrew Ladd steps into a 90 mph slapshot:

But the man that everyone expected to take this competition put on quite the performance.  Dustin Byfuglien blasted home shots of 103, 101 and 104.  Enjoy the video.

Team White wins:
Dennis Beyak interviews Team White captain Chris Thorburn: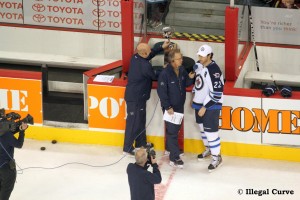 Chris Thorburn accepts trophy on behalf of his team from co-MC Brian Munz, radio voice of the Jets on TSN Radio 1290:

Team White celebrates winning the 1st ever Jets Skills Competition trophy:

A lot of fun was had by the 10,505 in attendance.  The Jets next see action Thursday night when the Washington Capitals roll into town.  Stay tuned to Illegal Curve for all the latest Jets news.