Most people have heard about #BellLetsTalk which runs at the end of January each year and raises a boatload of money for mental health care in this country.
On a local level folks many around here know the Jets organization run, through the Project 11 initiative in memory of former Manitoba Moose Rick Rypien, a program which is "designed to help support students and teachers in bringing mental health awareness, along with positive coping skills into their lives".  More on that initiative here:
Project 11 is inspired and created in honor of #11, Rick Rypien, former player of the Winnipeg Jets and Manitoba Moose. It is available to support students in Kindergarten to grade 4 (English or French) and in grades 5 to 8 (English) with virtual tutorials educating students about Mental Wellness.
The past two years Project 11 has added a Mental Wellness Summit which coincides with Bell Let's Talk Day.  Last year they had over 3000 kids at Bell MTS Place for the event.
Back in January in a game against the Blue Jackets the Jets hosted 'Hockey Talks' which is a "national public awareness campaign for Canadian NHL teams designed to encourage conversations about mental health. The campaign showcases mental health resources and provides information from leading experts, and alleviates some of the misconceptions and stigma associated with mental illness.".
This past week at Jets Development Camp we learned from Director of Player Development Jimmy Roy, who played nine seasons for the Manitoba Moose 1.0, that the team added a mental health component to their activities for the prospects and camp invitees.  "We had a mental awareness session.  I think that's one thing that is really positive with young kids today and their openness and willingness to talk about the mental awareness.  We wanted to show them that we support that in anyway we can and we want to be proactive.  We are here to help in anyway we can.  I think it was one thing that some of the kids took some stuff out of this year and was a real positive step for us at our Development Camp."
In addition to the above in today's twitter/instragram/snapchat/etc type world the prospects were provided with social media training "it's one of the sessions we have with Scott Brown (Jets Senior Director, Hockey Communications).  Talking about handling your social media accounts and you know in situations like this and stuff like that we try to help kids understand there are pressures off the ice in social media, in media, you try to help kids understand how they can communicate their message and do it properly."
We sometimes tend to think of athletes as being invincible.  While they may be physical specimens the importance of good mental health extends to them as well and it is good to see that the Jets are taking this initiative with their young prospects.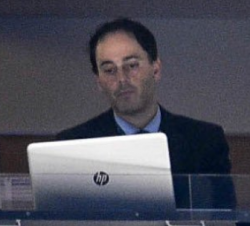 Latest posts by David Minuk (see all)