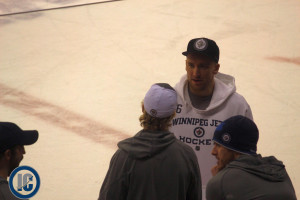 The Jets were supposed to hit the ice today at 12:00 PM following a yesterday's big win over the St. Louis Blues.  But the team changed things up and did interviews with players following their off ice workout.
The only Jets players on the ice were:  Michael Hutchinson, Keaton Ellerby, Anthony Peluso, Matt Halischuk, TJ Galiardi, Eric O'Dell, Ben Chiarot (orange jersey), Mathieu Perreault (orange jersey). (orange = non contact).
Jets audio:
Following the scrums with the players coach Maurice met with the media in the Matt Frost Media room.  To listen click here.