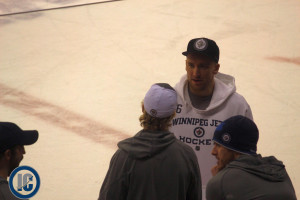 The Jets met with the media this morning in Anaheim before boarding a flight back to Winnipeg.   Lots to hear from the team as they look to the Whiteout and the rabid Winnipeg fans to help turn their fortunes around.
Jets audio:
Drew Stafford – On getting back to Winnipeg. How much of a difference will the MTS Centre make? Concerned with "how" the losses occurred. How is Anaheim finding that "extra push" in the 3rd and the Jets are not? Is the Jets "style of play" affecting their play in the 3rd period? Was there enough discipline shown by the team yesterday? Contrasting opportunity to make it 2-1 with fear of being down 3-0. What can they do as a collective group to regain faith that they can come back in this series? Putting the last two games behind them. On the knowledge that this series is not over.
Tyler Myers – Being down 2-0. What is he expecting at home and can that help them? How does he feel about the amount of offense the team has generated? Tougher to forget about last night considering the way it ended? Has the series gone the way he expected (aside from being down two games). Any concern with being too ramped up with the home crowd for game 3?
Mark Stuart – Are they winning the battle of maintaining their composure? Any value in going back to Winnipeg with the atmosphere everyone is expecting? How will they handle this adversity? Any answers to what is happening in the 3rd period? What have they not been doing to close out the game? Are they making it difficult enough on the Ducks goalie? When you lose two games like that is it more disheartening or can you still be confident in your level of play?
Mark Scheifele – What does he take from the first two games? What is the emotional swing like when you are so close but lose it late? Is there anything to take from the 3rd period that they are hoping to improve next time around? What adjustments need to be made by the team?
Michael Frolik – After a night's sleep do they have a better perspective on the loss? What can the MTS Centre do for the team?  Is there still more to give from this team?
Lee Stempniak – Assessing the game. On his missed opportunity in the 3rd period. Can they take solace in fact that they got chances? What did he notice with Perreault in the lineup last night? What kind of adjustments does the team need to be make? On the team needing to generate more offense. Are they testing Ducks goalie enough? Excited for the crowd back in Winnipeg? Have the Ducks been smarter? Taking the penalties at the "wrong time".
Audio courtesy of TSN 1290 Winnipeg.