Note:  The Jets dropped their second game in a row to go down 2-0 against the Ducks.  The series now shifts to Winnipeg where the Jets are hoping the whiteout can help get them back into this series.  The team has media availability in Anaheim at 11 AM before returning to Manitoba.  Be sure to follow @illegalcurve for the latest Jets news.
Jets news:
NHL.com:  Jets need to make neutral-zone adjustments.  Frederic Chabot, a former goaltending coach with the Oilers and who played five season in the NHL, isolates the above as an issue the Jets need to rectify.
Winnipeg Free Press:  Another killer comeback.  Stunned silence was the reaction from Jets fans across the nation as they saw their team lose a tight game with just 19.8 seconds to go in the 3rd period.  Tim also covers the return of Perreault, the insertion of Pardy into the lineup, a dubious start and many minors.
Winnipeg Sun:  Penalty by Ladd proves costly.  When you are the captain of the team there are expectations that you will lead by example.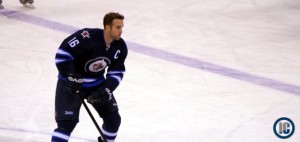 Winnipeg Sun:  Ducks double down on Jets.  Ken breaks down another tough loss by the Jets.
Sportsnet:  Jets return home in search of first playoff win.  The franchise hasn't won a playoff game in six attempts and will try and win their first with the help of a little whiteout.
CBC:  Jets fans remain defiant after heartbreaker in Anaheim.   Until the opposition has won four games in a series there is no point in giving up hope.  While things appear dire right now until the Jets lose a game at home they are still very much in this series.
CBC:  Byfuglien checks Kesler into the bench.  It was one of the highlights of the 2nd period.
Orange County Register:  Five things we learned about the Ducks in Game 2.  A look at the Jets/Ducks game from an opposition paper.
Ducks 2 Jets 1 post-game:
Illegal Curve:  Jets post-game audio.  Ondrej Pavelec and Adam Pardy spoke following the loss.
Illegal Curve:  Coach Maurice post-game scrum.  How critical was the 3rd period penalty to Ladd which led the the tying goal.  How does he explain/defend what he did to Ryan Keseler? What is his evaluation of his team tonight?  Two 3rd periods in a row, does he have an explanation for this?  What does he do to go forward now?  How does he deal with the deflating nature of that loss with his players?  How much does home ice factor, especially with the upcoming crowd atmosphere?  What did he think of the play of Pavelec?