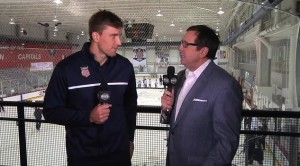 Congrats to Blake Wheeler for making the squad.  He was the lone Jets player selected to participate.
Back in the summer team GM David Poile spoke about the four Jets (Trouba, Bogosian, Wheeler and Byfuglien) who could potentially be on the roster.  You can listen to that here.
Scott Burnside spent hours behind the scenes with U.S. management and has this read on how Team USA was selected.  This was a terrific article.  Spend the time and gain some insight into the player selection process.
Of interest to Jets fans:
Two weeks into season – Byfuglien continues to be a loose cannon even in theory.  "We don't yet know who the best players are," Poile says. "Can we trust Byfuglien to play in this tournament?"  "You know I'm not a big Byfuglien guy," Burke notes. But he seems to have committed himself to being in better shape and improving his game. "And no one can pound the puck like him," he adds.
End of November:  As time has passed there is growing enthusiasm for Blake Wheeler and the different elements he brings to the game.  Don Waddell has seen a lot of Wheeler, and while he didn't have him on his original board, he has grown to believe he could be a useful addition. "I think he'd be a help to us," Waddell says.  Burke agrees.  "I think this kid's playing his way onto the team," he says.