Note: Following today's Jets Papers, you can ensure you are up to speed with our game set-up written by Ezra Ginsburg.  Keep it locked to the site to get pre game audio from coach Noel.  After the game, be sure to check us out for all the post-game reaction. As soon as the site is updated we notify you via twitter @illegalcurve and Facebook.
Note II: For away games we have our #ICGWG contest. Make sure to @ tweet @illegalcurve with your guess. Remember that for your vote to qualify you must send in your guess using a hashtag (#). (i.e. #ICGWG Wheeler).
Jets news:
Winnipeg Free Press:  Revived Jets ready for a tough road test.  We are about to see what this team is made of when they battle two of the top three teams in the East.
Winnipeg Sun:  Jets put to the test with 3-game, 4-night road trip.  As we have seen, the prospect of getting into the playoffs from the outside looking in in this league is not an easy task.  The Jets cannot afford to have a let down road trip. 
Winnipeg Sun:  Third straight start for red-hot Montoya.  Call off the lynch mob Jets fans as coach Noel is going with the hot hand.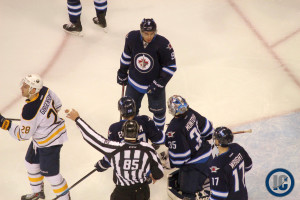 Winnipeg Sun:  Sabres writer finally able to end Winnipeg ordeal.  We've had Mike Harrington on the Illegal Curve Hockey Show a number of times and the intrepid Buffalo News reporter endured a lot to cover the Sabres for the fans in Buffalo.  Even leaving the Peg' proved to be an ordeal.
ESPN:  How the U.S. hockey team was named.  A tremendously insightful read into how Team USA selected their players.  A little bit about Trouba with quite a bit about Buff and Wheeler.  Put some time aside as this is going to take some time to read but well worth it.
USA Today:  Behind the scenes in choosing U.S. hockey team.  Kevin Allen was embedded and gives an interesting accounting of the selection process.
Illegal Curve:  Jets on Team USA 2014 Men's Olympics Hockey Team.  Just one (Blake Wheeler) of the four Jets that were initially talked about made the list.  The announcement was made at the conclusion of the Winter Classic.
Illegal Curve:  Jets players at MTS Centre.  Before the team departed for Ottawa I caught up with Anthony Peluso, Mark Stuart and Zach Bogosian.
Illegal Curve:  Coach Noel scrum.  Considering the week ahead.  Goaltending situation.  How does he decide which goalie to use in the back to back games?  Consistency talk, do they have it?  Does this surge feel different?  On John Scott being sent out for last faceoff.  Has he ever sent a message like that?
Senators news:
Ottawa Citizen:  Anderson will start against Winnipeg.  Now you know who the Jets will face tonight.
Winnipeg Free Press:  About the Sens.  A bit about the Jets next opponent.