Winnipeg Free Press:  Flyers take morning off before game tonight.  The Jets look like they might be tangling with another surly team.  The Flyers didn't skate nor were the players available to media.
CBC:  Jets hope to capitalize on Pronger's absence.  As the Thrashers the Jets handed it to Philly last season and Mason really played well against them.  However that was last year and this Flyers team is significantly different than it looked last season.  Join the IC crew tonight at The Cheer (Osborne Street and Stradbrook) as we will be hosting the Jets/Flyers game festivities all night long.
Winnipeg Free Press:  'They're going to go in'.  The team is just 8 games into an 82 game season so it isn't time to hit the panic button yet.  These guys have chemistry but for whatever reason they just aren't getting the bounces.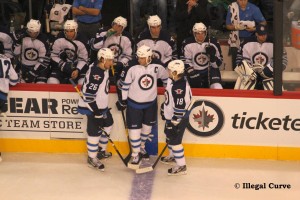 Winnipeg Free Press:  How will losing play out?  If fans use their heads and not their hearts they will understand that this team can compete on a nightly basis but isn't yet what most want them to be, a team that can compete in the playoffs.
Winnipeg Free Press:  His head's still in the game.  Slater brings intangibles to the Jets, who don't have a tremendous depth at forward.  The team cannot afford to be without him if they plan on having a successful road trip.
Winnipeg Sun:  Kane happy with Jets. Is there some smoke here?  Doesn't appear but here is the original Millard tweet (see below) that got the buzz started.  The twitterverse is a weird, wacky world sometimes.


Winnipeg Sun:  Huge relief for Slater.  For someone who dealt with being day to day for 4 months last season, it must be an immense relief to not have concussion symptoms the day after the injury.
Winnipeg Sun:  Stuart a shot-blocking machine.  He isn't an offenseive force, and is one of the first to admit that isn't a major part of his game, but he does those little things that a coach loves.
Winnipeg Sun:  No clear consensus on visors.  Feel like I'm having deja-vu except instead of a debate over whether guys should wear helmets, it is now moved onto visors.  What do you think?  Should it be mandatory for new players?
Winnipeg Sun:  GST line taxing on Jets foes.  Love that this has gained traction.  If you want more from the players here are comments from all 3 members of the GST line.
Belleville Intelligencer:  Jet-powered Bulls beat Barrie.  It was a meeting of Jets prospects and while Mark Scheifele's team didn't get the win, he did put up 2 assists.
Winnipeg Free Press:  Kane's agent denies trade rumour.  What else can he do but deny this report.
Winnipeg Free Press:  Jets hope seven game road trip will help team bond.  This could be a make or break road trip for the Jets.  If they finish around.500 it will be alright but if they don't win many games, it could be a very long season for Jets fans.
Jets next opponent news – Philadelphia Flyers:
CSN Philly:  Ice times will change for Flyers' defensemen.  The core four d-men in Philly will be seeing an increase in time on ice without Pronger taking his 21 minutes per game.
Daily News:  Looks like Couturier will remain with Flyers.  Ironic that his 10th game, the game that would ensure he is sticking around this season, will come against the team that was widely expected to be selecting him in the 2011 Entry Draft.