Winnipeg Free Press:  Hell on Noel — and goalies.  I think the only people who enjoyed last night's game were the fans, and even they were having heart palpitations watching the festivities.
Winnipeg Free Press:  Filling nets in Philly.  In 8 games the Jets had just 17 goals for but in just 1 game managed to score more than half that amount.  Let's hope they didn't use up all the scoring in one game.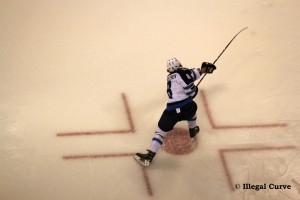 Winnipeg Free Press:  Twitter games doing Kane no favours.  Rumours of this have been whispered about for the past few weeks, and one has to hope they are simply not the truth.  One thing that won't endear a player making millions of dollars a year to fans, is to hear that he (or someone who purports to represent him) is making these types of demands.
Philadelphia Inquirer:  Jets happy to be back in Winnipeg.  Nothing most Jets fans aren't aware of but the significance is that the city of Winnipeg is back on the map and being discussed in a city like Philly.  Soon the marquee will say Wpg vs. New York.
Winnipeg Sun:  Jets snapshots – Crazy night in Jets history.  Throughout the game the IC crew kept discussing how we felt like we were watching the Jets 1.0.  No lead was safe and you always felt like it was about to fall apart.  Unbelievable (or not) that only 4 Jets didn't record a point last night.
North Shore News:  North Van hockey star takes off with Jets.  I had a chance to cacth up with Maxwell before the Jets left on the road trip and he seems to know what is going to be expected of him this season.
Globe and Mail:  Jets owner – if we couldn't make money, we wouldn't have gotten into this.  If there is one thing I wouldn't be worried about, is True North not making enough money while owning the Jets.  These guys are making it hand over fist right now.  Case in point, the $12.50-$17.50 they are charging for the November 15th Jets skill competition.