Globe and Mail:  Leafs links – Monster time?  It is always important to know what is happening with the opposition.
Sportsnet:  Brunt on Jets – A song in the heart of a city.  The man who broke the news that NHL hockey was returning to the city of Winnipeg with a great read on the Jets return.
CBC:  Jets land in T.O. building towards 'A' game.  Kessel was a Thrashers killer and looks to continue that trend and his goal scoring tear tonight against the Jets.
Winnipeg Free Press:  A human Swiss Army Knife.  Slater and the rest of the GST line bring a level of compete that coach Noel feels comfortable with, since he has used them fairly heavily already this season.
Winnipeg Free Press:  Teenage Burmistrov best Jet so far.   Simply put he has been the best Jets player through 4 games.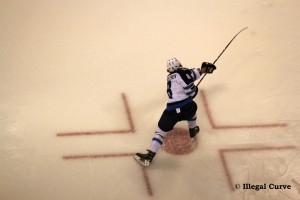 Winnipeg Free Press:  Parallel paths?  The reality is that the Jets #1 pick will be up for another 5 games and who is to say he doesn't break out in game 6 or 8.  Our prospects expert Kyle Kosior will have his thoughts on Scheifele later today.
Windsor Star:  Leafs work on power play.  Well if it makes Leaf fans feel better the Jets (currently 30th) have been even more ineffective than them on the pp.
Globe and Mail:  Soaring Winnipeg Jets start road trip in Toronto.  Can the Jets turn around the power play?  Coach Noel might "not be worried" (his words in yesterday's scrum) but this team is 0 for 17.
Winnipeg Sun:  Breaking bad habits.  The Jets coach was still not happy during practice yesterday.  When I asked Jim Slater what he thought he and his GST line needed to be doing, he laid it out as follows:
It's real simple to be honest with you, it's the most simple game, playing great defensively, winning face offs, killing face offs putting pressure on the other team's d and top lines, and getting pucks to the net, it's a real simple recipe but its worked for me over the years, so I want to continue to do it.
Winnipeg Sun:  Noel clears up the 'chaos'.  Was a bit surprised that coach Noel talked about calling that meeting with the Jets players leadership.
Toronto Sun:  Odd tales from Thrashers land.  Some former Thrashers give their take on what life was like in Atlanta.  With a return to the NHL we get a return to Toronto attitude:
In the end, both players felt the move to Winnipeg was outstanding. That, in itself, should tell you something.
Toronto Sun:  Dudley passes on watching 'his' Jets. Much like people in Winnipeg couldn't bear to watch the Coyotes, I can empathize with the Thrashers former GM.
Winnipeg Sun:  Leaf game still special for Jets.  Toronto might feel a lot like Winnipeg based on all the Peggers' or former Winnipeggers who will be in attendance tonight.  When I told Jim Slater that he might hear a 'Go Jets Go' chant and see a number of Jets jerseys at the ACC he said:
It's great anytime you hear it, it puts a smile on your face, it's cool to have fans traveling to other arenas to watch you play, we didn't get that much in Atlanta but to have fans traveling to see us play, it's great to see the Jets jerseys in the stands for sure.
Winnipeg Sun:  Jets short snappers.  Kane should be playing, Meech to make debut, Scheifele getting calls for tickets and doesn't look like Manitoba native James Reimer will be starting against the Jets.