Winnipeg Free Press:  Shaw president apologizes for glitch.  Good move to apologize and give people a few more games in which to enjoy the Jets before fans have to start paying.
Toronto Star:  Mixed reviews for Jets relaunch.  To hit that 96/97 point threshold, the Jets are going to have to start winning some games.  Good start would see them beat Manitoba born Jame Reimer and the Leafs on Wednesday night.
Pittsburgh Post-Gazette:  Penguins' Letang suspended 2 games.  I'm mildly surprised that he was suspended.  But the league obviously is handing down harsh penalties to prevent guys from making these types of hits going forward.
Globe and Mail:  Antropov not about to get sentimental over Toronto reunion.  Surprised that Antropov played for 10 years in Toronto.  We have heard that there will be a big Winnipeg contingent at the game.
TSN:  Jets head east feeling confident.  If you want to have any chance at making the post season the Leafs and Sens are two teams you have to climb over to get there.
TSN:  Did Matt Cooke interfere with Pavelec resulting in the lone Penguins goal? Former NHL ref Kerry Fraser answers the question.  Our own Michael Remis provides pictorial proof of same.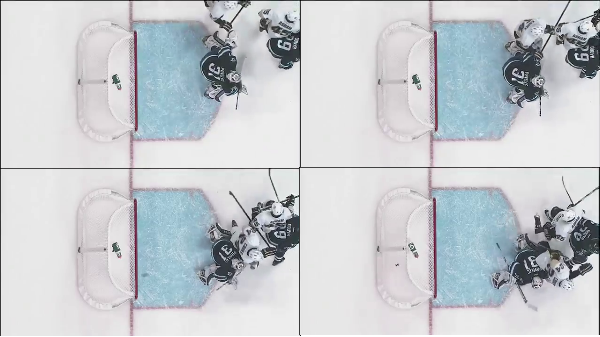 Winnipeg Free Press:  Burmistrov feeling good, ready to face Toronto.  Good news for Jets fans, he wasn't feeling concussed this morning.  Based on his speed in practice today he wasn't showing any ill effects.
Yahoo Sports:  Kris Letang's boarding video.  Burmistrov downplayed the hit saying he may have been partially responsible as he turned.  Letang probably should have pulled up but it was a tough play.  My guess is there won't be any further discipline.
CBC:  NHL power rankings.  How is it that the CBC is still using a Thrashers picture for the Jets in their power rankings?  However I do approve of the Growing Pains reference.

Globe and Mail:  NHL enforcers continue to drop the gloves.  Guys who are cast in that role don't necessarily only want to be known as fighters but they also won't shy away from it.  Following today's Jets practice I asked Chris Thorburn (of the Illegal Curve coined GST line) about his fight last night and he said:
"It was a little part of my game, it was good, it went alright, he's a tough boy it was just a good fight, good to get one under my belt here at home"
Winnipeg Free Press:  Penguins vs. Jets slideshow.  If you want to enjoy some pictures from the Jets 1st regular season victory.