Winnipeg Free Press:  Ladd, Byfuglien return to Windy City after they miss out on Cup fun.   While it will be nice for them to reminisce about the past Cup victory, this Jets team needs to focus on the now.  They didn't play  particularly well in game 1, so they need to put forth a better collective effort in game 2.
Winnipeg Free Press:  Ex-Jet captain will be 'emotional'.  I didn't realize Troy Murray just played 110 games for the Jets.
Winnipeg Free Press:  Toews had to watch.  It's too bad his younger brother got sent down or this could have truly been a family affair.
Winnipeg Free Press:  Old Chicago buddies on collision course.  So many different things to watch for in tonight's game.
Fox Chicago:  Will Dan 'Car Bomb' Carcillo implode or succeed on Hawks?  We know what Tanner Glass thinks of him…..
ESPN:  Cup hero Byfuglien return looms large.  Usually when a player is traded they eventually get to return to the place they formally called home for a return visit, but both Ladd and Buff havnen't been to the United Center since June 6th, 2010.
Winnipeg Sun:  Jetting away from it all.  Coach Noel didn't seem much happier with Wednesday's effort at practice so perhaps the best thing for this team to do is get away from the Peg' and bond as a team over this short road trip.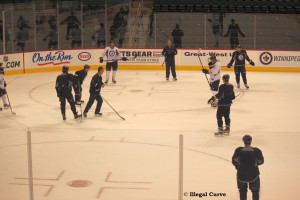 Montreal Gazette:  Return of Jets shows Winnipeg's resiliency.  I've been saying for awhile that perhaps the best thing that ever happened to this city was (gasp) the Jets 1.0 leaving BECAUSE it forced us to deal with our city's apathy.  We could have thrown in the towels and moved elsewhere (enough people did) but instead we stayed, put that capital into other ventures, built this economy and ensured every sports event held here (Pan Am Games, World Juniors or Grey Cups to name a few) we're done better than anywhere else.