Winnipeg Sun:  Toews set to face hometown team.  The Hawks have some good Winnipeg connections, and expect Toews to be a force in his only appearance against his hometown club this season.
Winnipeg Free Press:  Cheers expected for two Jets on return to Chicago.  Maybe during the pre-game skate but not many players from opposing teams get cheers in someone else's rink.  (exception to that rule – Teemu Selanne on December 17th).
Winnipeg Free Press:  Noel feels heading out on the road will be good for Jets.  The players are probably happiest to be able to stop answering the same questions over and over again.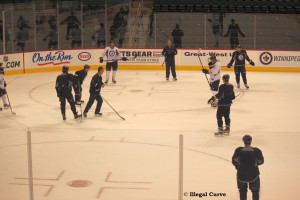 Globe and Mail:   Jets captain heading back to Chicago.  The Stanley Cup team he left has been significantly changed, but expect him to get a good crowd response.
TSN:  McKenzie – realignment ignites a passionate debate.  Dear lord.  I thought I had put a lot of thought in realignment, but McKenzie gives you so many options your head is gonna be spinning and you still won't know which team is in which division.
The Selkirk Journal:  Jets debut gives more reason to support local hockey.  Gone are the days of the $7 cheap seats at 7-11.  Junior hockey provides an affordable alternative for families.
Metro:  'Pegger's passion and pride brewed in Winnipeg Jets to be brewed as beer.  That's sounds a lot tastier than what I originally envisioned.
ESPN Chicago:  Blackhawks' Corey Crawford uncertain for Jets.  Sounds like the Hawks are having the injury bug go through their goalie core.
Syracuse.com:  Anaheim Ducks call on Troy Bodie.  Nice to see the Manitoba product getting a chance to ply his trade.