Note:  No rest for the wicked as the Jets and Bruins return to action tonight at 8:00 PM cst (in Manitoba).  Boston will be hosting Winnipeg in Saskatoon, Saskatchewan at the Credit Union Centre (capacity 15,195).  Catch the call of the game on radio via TSN 1290 Winnipeg.
Note II: Tomorrow, on the Illegal Curve Hockey Show on TSN 1290 Winnipeg, we have our Regular Season Preview Show with coverage from noon to 3 pm.  Guests:  Shane Hindy (TSN-Jets) to preview Jets, Kevin Allen (USA Today) to preview the Eastern Conference and Eric Duhatschek (The Globe and Mail) to preview the Western Conference.
Jets news:
Winnipeg Free Press:  Tough, talented Trouba a keeper.  Coach Noel seems especially pleased with the game of 2012 1st Round pick Jacob Trouba who has been a workhorse in the past three pre-season games playing 23:28 vs. Boston, 22:06 vs. Edmonton and 25:41 vs. Minnesota.  To Trouba's credit he isn't letting the highs of coach Noel's praise go to his head as he continues to admit that he has to improve his game, but fans are already quite happy with what they have seen from the Michigan product.

Winnipeg Free Press:  Trouba, Scheifele in like Flynn.  With it being all but a forgone conclusion that both Scheifele and Trouba will be with the big club to start the 2013-14 season, the question that Gary poses is will they see enough time and play with the right line mates to continue their development?
Winnipeg Free Press:  Future on full display.  You could tell that it meant a lot to 2011 1st round selection Mark Scheifele to finally get the monkey off his back and to put a puck in the back of the net at the MTS Centre last night.  It seemed like the crowd recognized this, because the cheer was quite significant by the home side when he gave Winnipeg a temporary 2-1 lead over the Bruins.
Star Phoenix:  No mere pre-season game for Wright.   Always nice for players to return to the city they are from to show off their city to their team mates.  For James Wright he returns to the arena his grandfather helped build which must make it especially nice for him as he gets a chance to showcase his game in front of friends and family.

Winnipeg Free Press:  Young guns impress in 3-2 overtime loss.  The kids are alright as Trouba and Scheifele continue to gain the notice and trust of their coach more and more as the pre-season comes to a conclusion.
Winnipeg Sun:  Seven down, one to go.  Hard to judge these Jets as we have yet to see a full roster at any point during the pre-season.  Last night Ladd, Little, Wheeler, Bogosian and Enstrom were up in the press box.  Now the Bruins Lucic, Chara, Rask  and other regulars were also up with the scribes so that isn't to say it was unbalanced on the ice at the MTS Centre.  Simply put it would have been nice to see what the Jets complete roster will actually look like on the ice together.
ESPN: Less travel, more competition. On the negative side of things, four of the four ESPN analysts predict poor finishes for this team. On the plus side LeBrun called Peggers' the NHL's best fans and the MTS Centre home of the loudest crowd.
Jets opposition (Boston Bruins) news:
Boston Herald:  B's backup goalie job down to wire.  Always a nice problem to have for a team to be forced to make difficult choices because of an abundance of talent.
NESN:  Preseason finale serves as final audition for young defensemen ving for roster spot.  One last chance for the young B's to make a final impression on the team brass will take place tonight in Saskatoon.
Jets on a Deadline – Bruins 3 Jets 2 in OT: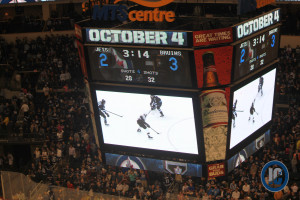 Winnipeg Jets: Jacob Trouba, Mark Scheifele, Evander Kane and Devin Setoguchi.
Boston Bruins: Coach Julien, Niklas Svedberg and Ryan Spooner.
Illegal Curve: Coach Noel post-game. Coach Noel's assessment. Trouba's performance. Has Trouba done enough to get into top 6? Scheifele's performance assessed. What happened at the start of the game? General pattern of problems with slow starts and finishing off games. The OT goal against. Did any of the guys battling in bottom 6 elevate themselves? Chemistry between Kane and Jokinen (very interesting response).
Illegal Curve: Post-game podcast from the Press box. Host Drew Mindell and Analyst Ezra Ginsburg break down the Jets play against the Bruins.