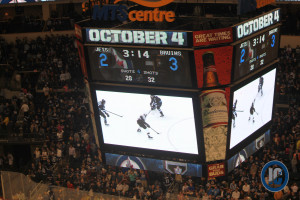 Game Stories:
Winnipeg Free Press:  Jets' young guns impress in 3-2 overtime loss.
Winnipeg Sun:  Bruins beat Jets in OT.
NHL.com:  Bruins top Jets in OT on Eriksson's goal.
ESPN Boston:  Spooner, Svedberg impress. 
NESN:  Loui Eriksson scores game-winning goal to give B's 3-2 win.
Post-game audio:
Winnipeg Jets:  Jacob Trouba, Mark Scheifele, Evander Kane and Devin Setoguchi.
Boston Bruins:  Coach Julien, Niklas Svedberg and Ryan Spooner.
Illegal Curve:  Coach Noel post-game.  Coach Noel's assessment.  Trouba's performance.  Has Trouba done enough to get into top 6?  Scheifele's performance assessed.  What happened at the start of the game?  General pattern of problems with slow starts and finishing off games.  The OT goal against.  Did any of the guys battling in bottom 6 elevate themselves?  Chemistry between Kane and Jokinen (very interesting response).
Illegal Curve:  Post-game podcast from the Press box.  Host Drew Mindell and Analyst Ezra Ginsburg break down the Jets play against the Bruins.
Video Highlights:

NHL.com 3 Stars
1.  Patrice Bergeron
2.  Jacob Trouba
3.  Loui Eriksson