Note: All this month we wanted to bring to your attention the Pass it Forward program which provides help to youth in Winnipeg who wish to play hockey but require aid in getting the necessary equipment. The program is in it's 5th year, they have a website, an active twitter feed @PassItForwardca, and they are giving away a autographed game used stick. Be sure to check it out.
Note II:  Tomorrow, on the Illegal Curve Hockey Show on TSN 1290 Winnipeg, we have our Fantasy Hockey Spectacular.  Jets coverage from noon to 1 pm, followed by fantasy hockey preview from 1 pm to 3 pm.  Bonus 4th hour from 3 pm to 4 pm with Jay Richardson, Michael Remis.  Guests:  Gus Katsaros (McKeen's Hockey, Pro Scouting Coordinator), Steve Laidlaw (Dobber Hockey) and Justin Goldman (The Goalie Guild).
Jets news:
Update:  Backstrom vs. Pavelec in net tomorrow night as the Wild confirmed via twitter and Pavelec confirmed at MTS Centre today following practice.
Winnipeg Free Press:  Little fire on the ice this night.  The rivalry is ignited.  For whatever reason this game has a level of physicality that we didn't see in the two previous exhibition games.

Winnipeg Free Press:  Buff looks ready to shine.  He is looking quite good already which will make Jets fans feel pretty, pretty, pretty good.
Winnipeg Free Press:  Scheif wants to be 'reliable'.  Aside from a few gaffs I thought he had a pretty decent night yesterday.  Coach Noel is going to have to figure out quickly which role he wants the 2011 1st round pick on the 3rd line in a more defensive one, or with Kane and Setoguhi on the 2nd line.
Winnipeg Free Press:  So-so pre-season provides some surprises.  Aside from the decent play of the 1st line, I thought the brightest spot for the Jets on Thursday was the play of Joshua Morrissey.  He was poised, made crisp passes and didn't look like a 2013 draft pick.  Paul also looks at Scheifele vs. Jokinen, Frolik can frolic, Trouba needs to show more and Morrissey (as I said above) has shown a surprising amount and Up Next.  Next up is a date with the Wild back in Minnesota and based on the yapping and hitting, this new rivalry is about to heat up.
Winnipeg Free Press:  Downsizing the rule book.  The hybrid icing is overdue in my opinion.  One rule we were puzzled about was the new 'no tuck'.  Couple of players last night had full tucks, whereas some went with the partial tuck.  Tucked or untucked, that is the question?

Winnipeg Sun:  Scheifele's role unclear.  What appears clear is that coach Noel still feels that the Jets first round selection needs to be broken of some of the habits he developed as a junior.  He did show some nice touch and was able to shake off the elbow to the head that was delivered by the Wild's Medvec.  His shifts were a tad long however.
Jets on a Deadline – Wild 4 Jets 1: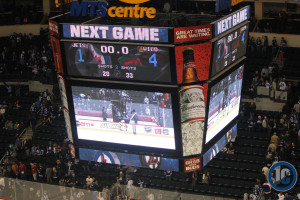 Winnipeg Jets: Mark Scheifele, Joshua Morrissey, Evander Kane and Bryan Little.
Minnesota Wild: Coach Yeo, Charlie Coyle and Mathew Dumba.
Coach Noel post-game. Gave a frank post-game assessment of the loss.
Illegal Curve Post-game podcast from the Press box: Host Drew Mindell and Analyst Ezra Ginsburg break down the Jets play against the Wild.