The Jets had two groups back on the ice today at the MTS Centre following the loss to the Minnesota Wild.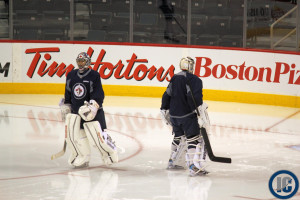 Ondrej Pavelec – Playing tomorrow, excited for second taste of pre-season?   How did he feel in the game he played?  His thoughts on playing entire game (vs. part game) during pre-season.  Importance for prospects.
Zach Bogosian – Talking about the game against the Wild.  Does the hit on Scheifele spark the rivalry?  Putting it in the memory bank.  Will Wild having vet lineup get Jets to step up?  Does the opponent matter?  Have they analyzed the various divisions?  What does he see in Morrissey's game?  Talking about Morrissey's confidence.
Josh Morrissey – Did he expect to have the success he has had to date? What is it about his game that works? Is it easier to come in with no expectations? How is he handling the physical side of the pro game? Any sense what is up next? Watching his jr. club. Is it surreal?
Audio courtesy of TSN 1290 Winnipeg