Note:  Be sure to tune into the Illegal Curve radio show from 12 pm cst to 3 pm cst.  Today's guests include Hockey Night in Canada's Elliote Friedman.
Winnipeg Free Press:  Looks like Scheifele will be a keeper.  The 1290 airwaves were filled with Jets fans calling in to express their opinion that the Jets need to keep the 1st round pick in the NHL this season.
Winnipeg Free Press:  An opening-night to-do list.  The list is long but fortunately for the brass they have over a week to get everything in order.
Winnipeg Sun:  What more can Scheifele do?  The biggest debate going to Tuesday (day team needs to sign him to a contract) is about the status of the Jets 1st round pick.
Winnipeg Sun:  Jets have tough calls ahead.  Jets have to make 9 cuts by early next week.  Who would you eliminate?
Calgary Herald:  Sold out!  The best sports bars in the 'Peg.  If you weren't one of the lucky 13,000 with a season ticket, here are the best places to catch the action.
Winnipeg Free Press:  Jets impressed with Shanahan decisions.  Hopefully the harsh penalties will result in smarter play this regular season.
Winnipeg Free Press:  It's great to have the Jets back, but they missed the net on logo.  I knew we were a hockey mad city, but how the Jets logo made itself become a topic of discussion in the Faith section is a new one.
Winnipeg Sun:  Thorburn feeling the pressure.  We thought he was one of the best Jets players on the ice last night, hence the reason we selected him (Illegal Curve made the official 3 star selections last night) as one of the game's 3 stars.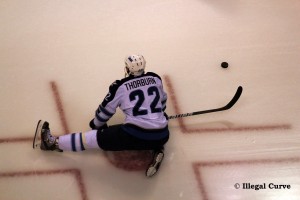 IceCaps News:
The Telegram:  Making room for Muzz.  Will this longtime AHL vet be able to catch on with the team?
Eagles News:
Coloradoan:  Colorado Eagles open camp, prepare for ECHL.  The Jets ECHL affiliate prepares to start the season.