Note:  Tune into the Illegal Curve Hockey Show on TSN Radio 1290 today as the guys spend the entire show breaking down the Winnipeg Jets season.  The show returns to the usual noon until 3 pm time slot.  Guest:  Dennis Beyak (TSN)
Jets news:
Winnipeg Free Press:  The mourning after.  Perhaps I should have called this Winnipeg Jets Mourning Papers.  Too soon?  The time for reflection began in earnest yesterday as the players met with the media in their season ending exit interviews.
Winnipeg Free Press:  Enough of Buff: Get rid of him.  Strong words but can the Jets afford to trade him?  Our own Richard Pollock took a look at the trade environment for a player of Buff's stature a few weeks back.  What do you think?  Would you want to see the rugged defenceman who can take over games in a different jersey next season?  Or perhaps similar to Pavs commitment(see below), would you like to see Buff in a Jets uni tearing through the opposition just in a more trim composition?

Winnipeg Free Press:  Summer could be a sizzler.  Going to be busy for the Jets brass that is for sure.  Here is a complete list (courtesy of Capgeek) of the Jets RFAs and UFAs:
RFA: Wheeler, Little, Burmistrov, Tangradi, Peluso, Bogosian, Redmond, Postma and Kulda.
UFA:  Antropov, Wellwood, Santorelli, Miettinen, Gagnon, Hainsey, Clitsome, Meech and Montoya.
Winnipeg Free Press:  Pavelec wants more.  He made a pretty strong statement to us yesterday that he will be using this summer to get better.  He said rather than sitting at home in the Czech he would come back to Canada (Montreal/Winnipeg) early to get an early start on his training.
Winnipeg Free Press:  It's broke–Fix it.  Ed looks at ten things the Jets must address to become a contender.
Winnipeg Sun:  Jokinen not pulling any punches.  While he had a terrible season, as he himself points out, the one thing you have to admire is his willingness to stand in with the media and take questions.  Yesterday he probably spent more time answering questions that any other member of the Jets and that has been consistent throughout the season.  For Jets fans and for Jokinen, they will have to hope this was simply an aberration and not the new norm for the aging forward.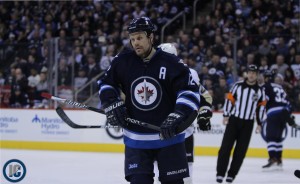 Winnipeg Sun:  Up in the air.  It is going to be one interesting summer for the Winnipeg Jets management as they decide how they would like this team to look for the 2013-14 season.
Winnipeg Sun:  Noel not worried about next year.  While the coach might joke about going fishing and shopping during the off season, you know that his focus will quickly return back to this team and the things that he needs to do to improve them as they move forward. 
Winnipeg Sun:  Playing for his Czech.  Now the talk switches to playing for your respective country in the World Championships.  While many Jets would likely be members of their home county teams, as a result of injuries from the season, many will be forced to sit this tournament out.
Winnipeg Sun:  Decisions…Decisions.  I absolutely agree with Ken that the Jets need to lock up Zach Bogosian for as long as possible.  It is quite evident that he loves playing in this city and as Ken rightly suggests, this city loves him back.  Ken also examines the other important players that will need new deals. 
Jets official site:  Season reflections.  Kristi provides some thoughts from the Jets room as the season came to a close.
Illegal Curve:  Coach Claude Noel end of season press conference.  The Jets bench boss met with the media for his final interview for the 2013 season.
Illegal Curve:  Jets players end of season interviews.  Nik Antropov, Jacob Trouba, Zach Bogosian, Chris Thorburn, Evander Kane, Bryan Little, Jim Slater, Andrew Ladd and Ondrej Pavelec.

Jets prospect news:
Yahoo Canada:  Barrie misses first chance to advance.  Austen Brassard and his Belleville Bulls refuse to go away despite being down three games to one.  Actually it is now three games to two as they beat Mark Scheifele and his Barrie Colts 3-1 in Belleville last night to force a Game 6.  Brassard finished with a goal and Scheifele had an assist.  The Colts will try and finish the series off in Barrie tonight and win a date to face the London Knights who won in dramatic fashion in OT over the Plymouth Whalers.  Max Domi, son of former Winnipeg Jets pugilist Tie Domi, had five points including the OT goal which launched him into a tie with Mark Scheifele for playoff points (25).
NHL news:
Globe and Mail:  Expect the unexpected in playoffs.  Eric Duhatschek with a comprehensive look at the 2013 playoffs.  Eric will be joining the guys on Monday for a special edition of the Illegal Curve Hockey Show as the preview the 2013 playoffs.
Pittsburgh Post-Gazette:  Crosby returns to practice.  What is truly amazing is Sid the Kid remains tied for 2nd overall in the NHL in scoring despite missing his 12th straight game today when the Pens play their season finale against the Hurricanes.  His Pens meanwhile haven't missed a blink and still have a nine point lead on both Boston and Montreal in the East.  Whenever they get him back Pittsburgh is going to go from a very scary playoff team to a juggernaut.
Minneapolis Star-Tribune:  Wild pummeled 6-1 at home with playoffs on the line.  Seeking a return to the post season for the first time since 2008 all the Wild had to do was beat an Oilers team that was well below the playoff line.  This task seemed fairly routine considering the complete ownership Minnesota has had of Edmonton (Oilers have only won once in 20 trips to St. Paul).
We now have three teams (Minnesota, Detroit and Columbus) battling for the 7th and 8th position in the West with all three teams playing today.  The Red Wings have 54 points while Minnesota/Columbus have 53.  Both Detroit and Minnesota have an ROW of 21 whereas Columbus is at 18. 
Here are the games:
Predators @ Columbus
Red Wings @ Stars
Wild @ Avalanche
Globe and Mail:  MacLean the perfect mix of strategy, motivation and comedy.  He was a fan favourite during his years as a member of the Jets 1.0 and has been great with the media when he has been here as a visiting head coach.  .