Scoreboard watch:  Penguins @ Senators
Note: Make sure to @ tweet @illegalcurve with your guess during tonight's game you can win IC Gear by participating in our twitter Game Winning Goal contest. Remember that for your vote to qualify you must send in your guess by hashtaging (#) our Game Winning Goal (GWG). (i.e. #ICGWG Wright).
Jets news:
Winnipeg Free Press:  Rangers now only have Jets to fear.   And based on the way New York is playing and who they have remaining there is likely not too much fear for the Blueshirts.
Winnipeg Free Press:  Playoffs or no, faith in future is warranted.  It will be a bitter pill to fall short for many Jets fans despite the knowledge that many pundits predicted the Jets would be cellar dwellers this season.  The good news is this has been an exciting season that has come down to the final week.
Winnipeg Free Press:  Bogosian likely concussed.  Still trying to figure out how that qualified as a legal hit by Okposo but regardless, the Jets are going to be hard pressed for success without Zach Bogosian in the lineup.  He is just too important a piece of the puzzle to be replaced easily.
Globe and Mail:  In tough to make playoffs.  The task is a tall one for the Jets but coach Noel is right, the only thing this team can do is win the games in front of them and worry about positioning when they've played their last game.  According to Sportsclubstats the Jets chances fell another 3.6% to just 15.7% but fans don't lose hope because as they said in Dumb and Dumber "..you're telling me there's a chance".
Winnipeg Sun:  No Bogosian, Jokinen for Jets against Sabres.   The loss of Bogosian is big.  Monumental even.  He has been contributing offensively while eating up big minutes on the ice.  Likely to see Zach Redmond step in for him as he has finished his two game conditioning stint with the IceCaps.  Still no word as to who might fill in for Olli Jokinen.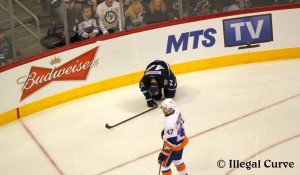 Illegal Curve:  Coach Noel from Buffalo.  Bogosian (Day-to-Day).  Jokinen (6-8 weeks with high ankle sprain).  Antropov (day-to-day).  Peluso (day-to-day – cleared).  Slater (day-to-day – aways away).  Being without Bogosian.  Zach Redmond a possibility?  Any concern putting Redmond in if he needed to?  Vibe in the room.  Success on the road help?  Status of Evander Kane.
Jets affiliate and prospect news:
TSN:  Marlies take shootout win over IceCaps in season finale.  Zach Redmond added another assist as he continued his remarkable road back to the NHL.  The IceCaps closed out a forgettable second season in the AHL.
Jets opposition (Sabres) news:
Buffalo News:  Enroth in goal as Sabres look to stop repeated groundings by Jets.   No Miller against the Jets tonight.
Buffalo News:  Pysyk still has plenty to play for.  The Sabres are taking a look at their younger players as they play out the season and this is just one of the young guns the Jets will face tonight.
Buffalo News:  Grigorenko in, Kaleta out.  Another prospect getting a chance to play against the Jets as the Sabres look to play spoilers for the Jets playoff chances.
Buffalo News:  Miller's time with Sabres is near the end.  Who would have believed you would ever read this headline in a Buffalo newspaper?  Of course with Buffalo appearing to be ready for the re-build makes sense that they trade Miller to a team in need of a goalie.
NHL news:
USA Today:  Blue Jackets bolster playoff push, top Sharks.  The little team that could just keeps on winning as they march towards a return to the playoffs.  They are now tied with the Wild for 7th in the West and are ahead of the Wings and Stars who are both three points back.
Globe and Mail:  This week's five games to watch.  While Jets fans would probably argue that all three of the games should be on the list, they did get two of three onto the list of five.  Somewhat surprisingly the Jets at Capitals game was the one left off the list.
Part 1:  Winnipeg Jets & Eastern Conference Playoff Preview.  Western Conference Playoff Preview.  Interview with Jack Edwards of NESN.  Winnipeg Jets vs. New York Islanders preview.  Winnipeg Jets vs. New York Islanders forwards preview.  Winnipeg Jets vs. New York Islanders defense preview.
Part 2:  Interview with Arthur Staple of Newsday.  Winnipeg Jets vs. New York Islanders preview (Goalies and Special Teams).  Break it Down: New York Islanders Power Play.  Break it Down: New York Islanders Penalty Kill.  Winnipeg Jets week ahead.  Interview with Bruce Dowbiggin of the Globe & Mail, Cheers & Jeers.