Scoreboard watch: Capitals @ Canadiens | Leafs @ Senators |
Note:  Tune into the Illegal Curve Hockey Show on TSN Radio 1290 today as the guys discuss all the latest Winnipeg Jets and NHL news starting at 8 am until 11 am due to the 2 pm start time of the Jets and Islanders game.  Guests:  Jack Edwards (Play-by-play voice of the Bruins), Arthur Staple (Newsday) and Bruce Dowbiggin (Globe and Mail).
Jets news:
Winnipeg Free Press:  Line of fire.  That is a lot of time to develop the right chemistry and it is clear that these three know how to play with each other.

Winnipeg Free Press:  Top Trios.  And considering the cold streak they went on during the five game losing streak and they could be even higher.  Thankfully for Jets fans they have gotten hot at the right time.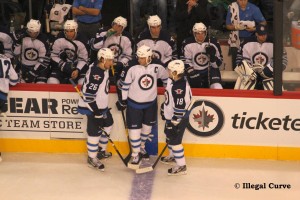 Winnipeg Free Press:  Major matchup.  Stud vs. Stud is what this could have been labeled.  Shall be quite the battle throughout today's contest.
Winnipeg Free Press:  Wins + wins = post-season.  Can the Jets maintain this pace?  Courtesy of this home stand we will find out if they can make it a perfect six for six today.
Winnipeg Sun:  Is Jets winning streak too little too late?  Jets fans have to hope it isn't and they can go along way to ensuring this by beating a very good Islanders team this afternoon.  Of course, if when all is said and done, the Jets find themselves on the outside looking in, they can look back at that mini sweep to the Capitals.  But for now, only thing to do is continue looking forward at their next opponent.
Winnipeg Sun:  Clitsome & Bogosian – The best defence.  Coach Noel has said that if he felt the lineup needed tweaking that they wouldn't be afraid to make a change just because they were in the midst of a winning streak.  Consider that the Jets gave up a two goal lead the last two games and perhaps the coach sees something that could use a change.
Winnipeg Sun:  Time for Winnipeg Jets to close the gap.  All this winning and all the Jets have done is simply kept pace with the rest of the teams vying for a playoff spot.  Another 60 minute challenge for the home squad and the crowd is going to play an important role today. 

Winnipeg Sun:  Jets face red-hot Islanders on 5-game win streak.  The time for winning against 'lesser' opponents is over.  The Jets now have to face a team ahead, not behind them in the standings for the first time in awhile and these Islanders are red-hot.   Going to be an excellent test for Winnipeg.
NHL.com:  Best moment of the week? Wings, Niemi, Ladd.  The Jets captain is up for this honour by virtue of his strong play against the Bolts on Tuesday.  In re-watching the highlights I have to say that I think this was probably the most expressive I've seen the captain after he scores the shootout winning goal for his team.
Jets affiliate and prospect news:
NHL.com:  Renewed focus in second period lifts Hamilton Bulldogs over St. John's IceCaps.  Young Finnish goalie Juho Olkinuora made his first professional appearance and it was a rough night for him as he gave up three goals in the loss.  On a positive note, Zach Redmond continuing his miraculous recovery, got an assist on the lone goal for St. John's and added three shots on net.
The Telegram: There and back again, a goaltender's tale.  Quite a bit about the newest net minder in the orgranizaton including his preference to be called Jussi instead of Juho.   Some other tid bits about the Finnish goalie who had his first start for the IceCaps last night.
Yahoo Canada:  Brassard scores twice as Bulls beat Colts for 1-0 series lead.  The Jets have two 2011 Entry Draft picks facing off as 1st rounder Mark Scheifele takes on 5th rounder Austen Brassard.  Last night (Game Summary here) both players looked very good but it was Brassard who skated away with the Game 1 victory.  His two goals, including the game winner with under two minutes to go in the 3rd, led his team to the win and halted the Colts eight game winning streak in the playoffs.  Scheifele finished with two assists on both Barrie goals giving him 18 points in just nine games which is good enough for second in OHL playoff scoring.  Game 2 is tonight at 6:05 pm cst.
Jets opposition (Islanders) news:
Newsday:  Islanders on verge of playoff berth.  Both teams are desperate for the points today which should translate to one amazing contest for fans of either team.
New York Times:  Islanders expect playoff atmosphere in Winnipeg.  I believe it was Evander Kane the other day who said if you cannot get motivated for these types of games then there is something wrong and he is absolutely right.  While fans would hope their Jets would be comfortably in a playoff position, I expect today's game and the atmosphere to be a preview of what we might see if the Jets make the post season.  Of course, a win and two points will go a long way to making this a reality.
National Post:  Islanders stay focused on playoffs despite talk of early move to Brooklyn.  This team has done very well on the road so they are not likely to be too worried about what is happening back in New York.
NHL news:
Ottawa Citizen:  Erik Karlsson expected back in time for playoffs.  The healing powers of some hockey players are quite remarkable.  Fans in Winnipeg have been marveling at the comeback of Zach Redmond from his life threatening injury to playing his first game back in the AHL last night.  Now fans in Ottawa are about to see an unexpected return as their Norris trophy winning defenceman returned to practice yesterday.
Globe and Mail:  Finishing strong no guarantee of a long playoff run.  I remember I took a look at this a few years back as I was hoping to see if there was a pattern from teams playing well over the final 10 games of the regular season and whether that would translate to success in the playoffs.