Scoreboard watch: Rangers @ Sabres
Note:  Tune into the Illegal Curve Hockey Show on TSN Radio 1290 Saturday as the guys discuss all the latest Winnipeg Jets and NHL news starting at 8 am until 11 am due to the 2 pm start time of the Jets and Islanders game.  Guests:  Jack Edwards (Play-by-play voice of the Bruins), Arthur Staple (Newsday) and Bruce Dowbiggin (Globe and Mail).
Jets news:
Winnipeg Free Press:  Bogo gives props to Pavs' brilliance.  When asked following the game what was the nicest save by Pavelec, Bogosian admitted it was on an error he made early in the game.  All the players on this teams continue to praise the play of their goalie.
Winnipeg Free Press:  Another thrilling drama.  It was something but Jets fans are probably hoping for a little less drama and a little more scoring separation between their team and the competition.
Winnipeg Free Press:  Bouncing back shows maturity.  Two straight games.  Two straight 3-1 leads in the 3rd period and both times the Jets failed to hold on to win in regulation.  However as Gary says, it was massive that they were able to persevere and win the game in either a SO or OT.
Winnipeg Sun:  One down, four to go for Winnipeg Jets to make NHL playoffs.  Buff played the role of hero and now the Jets just need to keep the winning streak rolling.  Kirk also touches on Pavelec making a save of the year candidate, his countrymen friends and putting things in perspective.

Winnipeg Sun:  Crazy train keeps a-rolling.  It is enough to give healthy people heart palpitations.  Fans pay for the seat but they only need the edge.
Winnipeg Sun:  Jets having trouble closing the deal.  Ron Hainsey spoke about the team not closing the deal when they are up by a couple of goals with under 10 minutes to go in the 3rd period.  It is a problem.  The Jets won't be able to have these types of gaffes against the Islanders on Saturday if they hope to continue this incredible winning streak.
Winnipeg Sun:  Hold on against Hurricanes, win in OT for fifth straight victory.  Just another crazy night in Winnipeg. 
TSN:  Jets run winning streak to five games.  So many guys have contributed to this streak but the Jets top line deserves major credit as they have 30 points collectively during the five game win streak.  Ladd has 11 points (4 G, 7 A), Wheeler has 10 points (3 G, 7 A) and Bryan Little with 9 points (1 G, 8 A).
CBC:  In the Room – Ondrej Pavelec.  Mitch Peacock talks playoff experience with the Jets goaltender yesterday afternoon.
Jets on a Deadline – Jets 4 Hurricanes 3 in OT: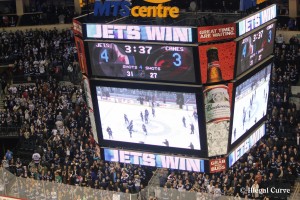 Winnipeg Jets: Andrew Ladd, Blake Wheeler, Zach Bogosian, Ron Hainsey, Dustin Byfuglien and Ondrej Pavelec.
Coach Noel post-game presser. Following his team's 4-3 win over the Hurricanes, coach Noel spoke with the media.
Carolina Hurricanes: Coach Muller and Tuomo Ruutu.
Illegal Curve Post-game podcast from the Press box: Guest Host Michael Remis and Analyst Richard Pollock break down the Jets play against the Hurricanes.
Jets on a Deadline.  Game recaps, post-game audio, video highlights and the NHL.com 3 Stars of the night.
Pavelec with save of the year candidate: