Scoreboard watch: Islanders @ Panthers | Leafs @ Capitals | Hurricanes @ Senators | Rangers @ Flyers
Note:  Make sure to @ tweet @illegalcurve with your guess during tonight's game you can win IC Gear by participating in our twitter Game Winning Goal and 50/50 contests. Remember that for your vote to qualify you must send in your guess by hashtaging (#) our Game Winning Goal (GWG) and 50/50 contest. (i.e. #ICGWG Wright #IC5050 $43,500.00).
Jets news:
ESPN:  Trying to shake history, make playoffs (Must be ESPN Insider for full article).    Does this team have enough in the tank to get it done?  We are about to find out.
Winnipeg Free Press:  It's one last gasp for this group of Jets.  The time for tired cliches is officially over.  Tonight is the first do or die (or the time for tired cliches is almost over) match of the next six.
Winnipeg Free Press:  Burmistrov has heard the boos.  Cannot always have sunshine and lollipops.  He hears the cheers when they are merited (i.e. on this move he pulled) and similarly when he makes an error he can expect a negative reaction.  While he might view it as scapegoating, the truth is there are high expectations on the enigmatic young forward and that is probably a good thing.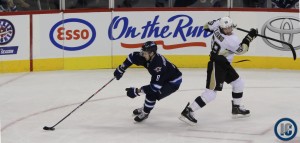 Winnipeg Free Press:  Grinders share spotlight.  When you get a goal from Chris Thorburn or James Wright it is seen as an extra bonus to the other tasks they are given on a nightly basis.  These guys know their roles and if they can chip in with the occasional goal to help out the primary scorers on the team, coach Noel will take it, but that certainly isn't the expectation. 
Winnipeg Free Press:  Noel's task is at hand.  It will be tough for coach Noel to stick to rolling four lines if they go down a goal or two.  It is at this point, when the tendency to ride your big dogs becomes most prevalent, that he will need to continue to trust in all four lines.
Illegal Curve:  Winnipeg Jets prospect Adam Lowry signs three year deal.  The Jets obviously like what they see from this young man.
Winnipeg Sun:  Ondrej Pavelec living out big-league dream.  Ken gets some insight from the Jets net minder on how he decided to become a goalie and how his approach to the game continues to develop and progress.

Winnipeg Sun:  Pavelec staying focused.  While 38 games is certainly not a lot in the normal course, during this lockout shortened season Ondrej Pavelec has played all but four of his team's games and if you ask him, he would be happy to have played them all.
Winnipeg Sun:  Rested and ready.  While this game certainly won't end the Jets season if they lose, they simply cannot afford to have a let down game.  They need to jump on Tampa early and sustain the pressure for the entire 60 minutes.  If you want to take time off, you can in two weeks (i.e. out of the playoffs) but the Jets need to leave it all out on the ice for each and every one of the six games remaining starting tonight against the Bolts.
NHL.com:  No pressure but Jets don't have much wiggle room to make playoffs.  On any given night in the NHL any team can beat another, so there is no time to be taking anyone lightly.
Illegal Curve:  Coach Noel post-practice audio.  Thought today's practice was pretty good.  Challenge first game back.  His focus during the last couple of days.   Excitement of the next 10 days.  Biggest challenge for him as a coach this week.  Sticking to the game plan (Using 4 lines vs. 3), not afraid to shorten but would prefer not to.  Importance of getting scoring from 3rd and 4th line players.  Will he match lines?
Illegal Curve:  Jets post-practice audio.  Evander Kane, Ondrej Pavelec, Olli Jokinen and Chris Thorburn.
Opposition (Lightening) news:
Tampa Bay Times:  Garon knows tenure ending.  Has to be tough knowing that you are the odd man (or goalie in this case) out.  Especially considering that there are still has a few weeks to go in the season. 
ESPN:  Ben Bishop extended two years.  Tampa feels strongly about Bishop clearly (although we suspect they felt the same about Lindback).  Can they change the culture to be a bit more defensive minded?
Tampa Bay Tribune:  Visor saves Thompson from worse injury.   While a visor is not a guarantee to avoid injury, as was seen (no pun intended) in this instance, it can go a long way to preventing a significant issue.
NHL news:
The Tennessean:  Preds' playoff chances are gone.  Just like that, the team that made it to the 2nd round of the 2012 playoffs have been eliminated from competing after they lost last night to the Canucks.  Impressively this is just the second time in nine seasons that Nashville will miss the post season.
Globe and Mail:  'Impatient' MacTavish takes over for Tambellini.  Will the trend of teams booming after relieving their general manager of their duties (Toronto & Columbus) continue in Oil town?  While this season seems over in terms of post season aspirations, it shall be an interesting off season for Mac T and the Oilers brain trust.