Note:  Stay tuned to @illegalcurve as we will be at the MTS Centre today as the Jets return to practice.
Jets news:
Winnipeg Sun:  A little help would be nice.  The Jets cannot get any luck.  All the teams they have needed to lose, just keep winning or lose in OT or a SO.  Check out the records in the last 10 games of the teams the Jets are chasing (Capitals are 8-1-1, Islanders 7-1-2 and Rangers 6-3-1).   All Winnipeg can do is keep their three game win streak going.  The Jets game in Washington (Tuesday, April 23rd) could have massive implications if all the teams keep winning this week.

Winnipeg Sun:  Hockey in his blood.  Despite his well known last name, Ryan Bowness is someone Jets fans are probably unfamiliar with.  Kirk does a bio on the Jets' manager of hockey operations.
Jets affiliate and prospect news:
The Telegram:  It's official – IceCaps ousted from playoff contention.  Such is life in the AHL, where your team dynamic can chance overnight.  The team that made it to the Conference Finals last year, won't even get to the playoffs this season.
The Telegram:  He's Glenn Stanford's right-wing – Driven to improve, says IceCaps vice-president of operations Rob Mullowney.  Learning a bit about some of the staff from the IceCaps.
Hockey news:
ESPN:  Yale wins first NCAA hockey title.  Not known as a hockey powerhouse, the Bulldogs surprised many with their victory yesterday.
Illegal Curve Hockey Show replay: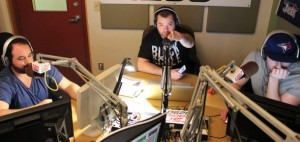 Part 1:  Winnipeg Jets week in review, Dustin Byfuglien as a forward, Dustin Byfuglien as a defenseman, Dustin Byfuglien trade possibilities,  Dustin Byfuglien trade possibilities, Interview with Chuck Gormley of CSN Washington.
Part 2:  Remaining schedule breakdowon, Remaining schedule breakdown, Sochi Olympics Insurance Issue, NHL & NHLPA partnership with You Can Play, Interview with Damien Cristodero of the Tampa Bay Times, Rapid Fire (NHL Awards), Cheers & Jeers.