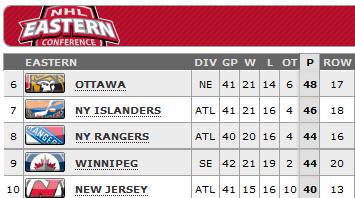 Scoreboard watch: Rangers @ Islanders | Lightning @ Capitals
Note: Tune into the Illegal Curve Hockey Show on TSN Radio 1290 today as the guys discuss all the latest Winnipeg Jets and NHL news starting at noon until 3 pm. Guest: Chuck Gormley (CSN Washington) and Damian Cristodero (Tampa Bay Times)
Note II: The Jets have the day off today.
Jets news:
Winnipeg Free Press:  Playoffs hurt, are hard… and Buff can't wait to get back.  When you've been a champion the desire to repeat for some players is massive incentive.  Dustin Byfuglien wants to show this team what the post season can be like and he has been a major force in moving the Jets towards the promised land.
Winnipeg Free Press:  Hunger pains.  Check out that list of players who have never had the chance to play in the playoffs.  Pretty long list.  While the Jets know it is going to be difficult to get into the dance, they sure want to get a ticket.
Winnipeg Free Press:  Jets take some needed R & R.  They now get to sit back, relax, recoup their energy and watch other teams play catch-up, although the Jets will be hoping that is just in games played and not in wins.
Winnipeg Sun:  Time to rest.  42 games in 83 days.  The Jets have finally finished the sprinting portion of their season and now get to rest for a few more days before game number 43 on Tuesday.
Winnipeg Sun:  Redmond ready for takeoff.  Simply unbelievable that the young D-man is ready for action once again.  Coach Noel feels he will need a solid week of practice so we could possibly see him for the road trip.  Paul also covers the Jets picture day, Gagnon scoring in bunches and a rested bunch of Jets.

Winnipeg Sun:  Panthers' broadcasters were right – Winnipeg Slurpees are different.  As a recovering slurpee addict (June 13th, 2011 being my last, man I miss them) I can attest that the slurpees in Canada, and specifically in Winnipeg are vastly superior than anywhere else.  In case you missed it, Steve Goldstein and Bill Lindsay from Fox Sports Florida took some time out from the Jets blowout win to go over some fun facts about Winnipeg, including our obsession with everyone's favourite frozen beverage.
Globe and Mail:  Claude Noel worked hard for his stripes.  An interesting read on the Jets always quotable head coach.
NHL.com:  Twelve pressing questions for season's final weeks.  Question 10 pertains to the Jets and whether they are peaking at the right time.
Jets affiliate and prospect news:
VOCM:  IceCaps filling a truck with food.  St. John's has teamed up with Purolator to fight hunger in the city.
OHL:  Eastern Conference Finals set.  The Belleville Bulls and the Barrie Colts will be doing battle starting on Friday, April 19th.  Why this matters is that two Jets prospects will be going head to head as 2011 5th round pick Austen Brassard faces off against fellow 2011 1st round selection Mark Scheifele.  As Homer J. Simpson once said "Fight, Fight, Fight for your parents (insert Jets fans here) love".
College Hockey News:  2013 CCM Division I All-Americans announced.  Jacob Trouba of Michigan cracked the West 1st team and Juho Olkinuora of Denver was on the West 2nd team.
NHL news:
Globe and Mail:  Logistics thorniest issue for NHL and Sochi Games, Fasel says.  Fans really aren't overly interested in hearing about logistics.  They want Canada vs. USA.  That is what truly matters to fans.
CBC:  NHL, NHLPA team with You Can Play to combat homophobia.  Sad in this day and age that this is even a newsworthy event.  Both the NHL and NHLPA deserve major kudos for being at the forefront of  professional sports leagues getting involved.  Many players are behind the You Can Play initiative led by Flyers scout Patrick Burke.  Check this video which is just one of many showing support (although this one features Dustin Byfgulien and Tanner Glass, players Jets fans are familiar with) for the You Can Play cause.